We've been having so much for with our #SundaySupper  posts. We have delighted in so many wonderful themes since the start of the year. Some of which were indulgent and totally enjoyable. We are thinking about our waistline this week. This is the "Skinny" edition of #SundaySupper! Our wonderful host is Sunithi from Sue's Nutrition Buzz. Sue is a Registered Dietician and knows all about good, healthy food! You may remember I made a salad that Sunithi made from a past #SundaySupper event to celebrate the first #SundaySupper anniversary. As always, I'm excited to see the line up. Perhaps feasting the recipes with my eyes will make my waistline appear smaller. We'll see.
For today's recipe, I didn't use a book or online source. I drew inspiration from a breakfast dish my Dad used to make for me. Some Saturday mornings, he would make saltfish and cabbage with boiled dumplings and green banana. Totally delicious, satisfying and good for you. But since I'm doing a skinny dish, I decided to go easy on the carbs ~ for today. As for the salmon, I just used some simple ingredients and made a quick marinade. I've learned that salmon doesn't need a lot of ingredients to make it taste good. A few herbs did the trick.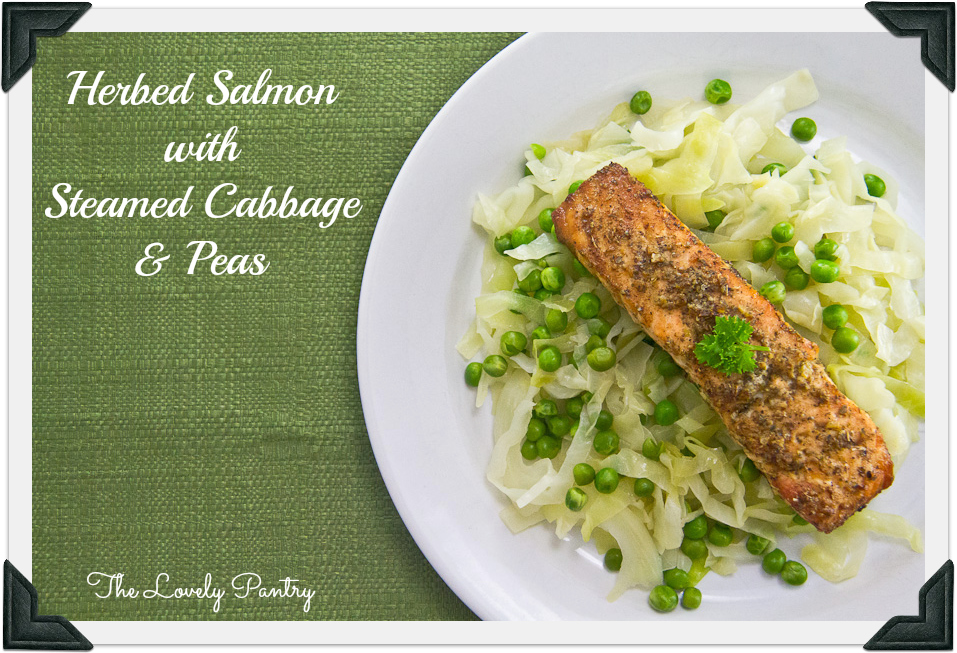 Herb Roasted Salmon with Steamed Cabbage & Peas
Ingredients
2 Salmon Steaks
4 Tsp Olive Oil
1 Tsp Dried Oregano
1/2 Tsp Dried Thyme
1/4 Tsp Salt
1/4 Tsp Pepper
1 Garlic clove, minced
***
1/2 Green Cabbage, core removed and cut into strips about half an inch thick
1/2 Medium Onion, thinly sliced
1 Tbsp Olive Oil
1 Tbsp Butter
1/4 Cup Unsalted Chicken Broth
1 Cups Sweet Peas (I used frozen)
Salt & Pepper
Instructions
Preheat oven to 425
In a small bowl, add olive oil, oregano, thyme, salt, pepper and garlic
Coat the salmon with the herb mixture
Place salmon in an oven proof pan (or baking sheet) lined with foil
Roast for 20 minutes or until cooked through
***
In a large skillet, heat olive oil and butter. Mix to combine.
Add onion and saute until softened, about 5 minutes
Add the cabbage strips, a handful at a time
Sprinkle a pinch of salt and pepper to taste
Add broth and cover for about 10 minutes
Toss the cabbage to ensure the top gets a chance to soften
Add peas to the centre of the skillet on top of the cabbage
Cover for about 5 minutes, then stir to get the peas evenly distributed
Add additional broth if needed/desired
When cabbage is softened and peas warmed through, serve with salmon
http://lovelypantry.com/2013/02/herb-roasted-salmon-with-steamed-cabbage-peas-for-sundaysupper/
I absolutely adore salmon. Roasting it is so easy and wonderful. I like mine well done with just a little crispiness at the edges. Salmon is one of the best sources of Omega-3 Fatty Acids – a perfect brain food! It is also an excellent source of protein. Salmon has a wonderful flavour that is quite distinct. It can be prepared in so many ways. I've steamed it in parchment, baked it, pan seared it and of course, I've roasted it too.
When it comes to cabbage, I will admit that I do not have it enough. It is awesome if you are trying to lose or maintain weight. Its low in calories plus it is packed with nutrients! I used a whole head of cabbage for this dish, which I realized afterwards that I didn't need that much. Half will do. I made the appropriate adjustments in the recipe.
I've always loved peas. It wasn't my intention to add the peas but I bought a few bags of organic frozen peas on sale recently, so I figured I should use it up! If I have to buy preserved vegetables, I prefer the frozen kind. Green peas are rich in vitamins and aid in the metabolism of fats, carbs and protein. I think it's a great tasting veggie and pairs wonderfully with the cabbage.
With a few simple ingredients, you can make a healthy, figure friendly meal in no time! I absolutely enjoyed this dish. In fact, I think I feel skinny already 😉
Be sure to check out the other "skinny" recipes being shared by the #SundaySupper team!
Sizzling Skinny Appetizers & Soups
 Healthy Skinny Mains & Sides
Guilt Free Skinny Desserts & Snacks
Wine Pairing Recommendations for Skinny Sunday Supper by ENOFYLZ Wine Blog
***
Join the #SundaySupper conversation on twitter each Sunday. We tweet throughout the day and share recipes from all over the world. This week we will be sharing out special skinnified recipes!
Our weekly chat starts at 7:00 pm ET and you do not want to miss out on the fun.
Follow the#SundaySupper hash tag and remember to include it in your tweets to join in the chat.
Check out our #SundaySupper Pinterest board for more fabulous recipes and food photos.
Join us Around the Family Table this Sunday at 7pm Eastern Time and share your favorite healthy recipes with us!
read more