Herbed Salmon, Sweet Potato & Asparagus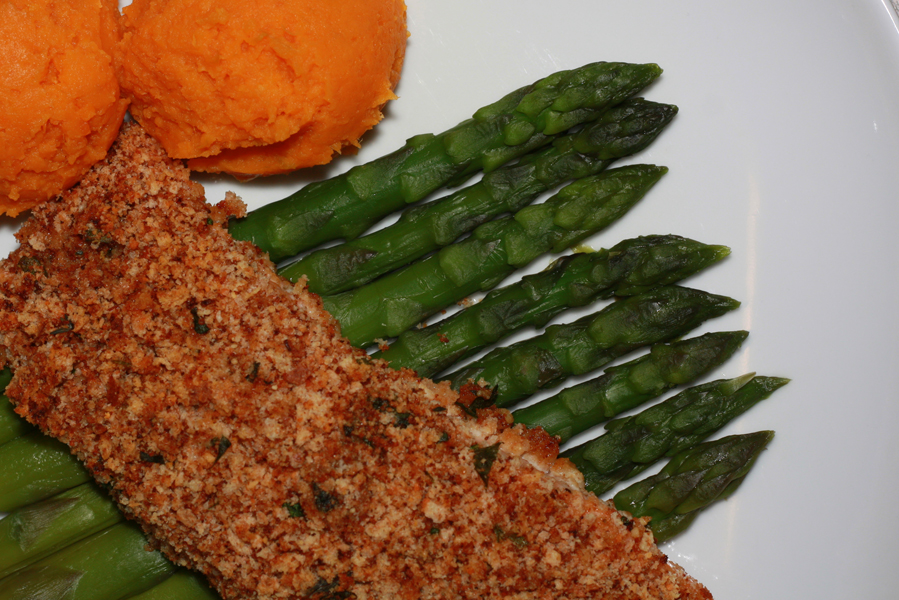 I was glad to try this recipe since at the time, salmon was still fairly new to me. The thought of breading a salmon fillet excited me  –  perhaps because I don't see many recipes like this. I was pleasantly surprised about how this salmon came out. I'd make it again and again. Its perfect for entertaining. People will admire the attractiveness and simplicity. The awesome thing is that I had excess of the combined herbs. I had separated the mixture into 2 portions and stored the unused portion in the freezer for future use.
Ingredients:
1 1/4 Cups Fresh Breadcrumbs
2 Cloves Garlic, Minced
1/4 Cup Fresh Parsley, Chopped
2 Tblsp Fresh Thyme, Chopped
3 Tblsp Grated Parmesan Cheese
1 Tsp Grated Lemon Zest
1/4 Tsp Salt
3 Tblsp Butter, Melted, Divided
1/2 Salmon Fillet (4 Slices)
Directions:
Preheat oven to 350F Degrees.
In a shallow bowl, combine breadcrumbs, garlic, parsley, parmesan cheese, thyme, lemon zest and salt. Combine well. Add 2 Tblsp butter and toss lightly to coat. Set aside.
Pat salmon dry. Place skin side down (you can get slices with the skin already removed) in a greased baking dish. Brush with remaining butter. Cover with crumb mixture. Bake for 20-25 minutes, or until salmon flakes easily with a fork.
Serve with mashed sweet potato and steamed asparagus. Enjoy.