Jamaican Sorrel for #SundaySupper
There is always something new going on in my kitchen.  This beverage is a big deal…to the husband. Sorrel is a drink he loves and until now, he had to depend on someone giving it to us as a gift or going to Jamaica to have the real authentic drink. Sorrel is a popular beverage to have during the Christmas season. I'll confess ~ I never really liked sorrel. Give me some other tropical drink. Give me soursop juice, carrot juice or fruit punch. Just not sorrel. Well, it seems that my taste is changing. I don't know what I was thinking. Sorrel is amazing! Around this time of year in Jamaica, most households, family gatherings or formal gatherings will have Sorrel in their selection of beverages.
Today's #SundaySupper theme is Holiday Drinks and Appetizers and our host is Connie from The Foodie Army Wife. A big shout out to my Bestie for giving me "The Real Taste Of Jamaica" by Enid Donaldson! It's getting good use! I was happy to have it so I could share this recipe today. Please be sure to check out the other beverages and appetizers brought to you by the #SundaySupper family. You'll need ideas if you are hosting or attending a holiday gathering.
Everyone that I've asked makes sorrel a little differently. Some people add a little wine to it. Some add a "little" White Rum, which is true in most cases. I didn't do too much adapting but I plan to tweak it a bit more on the next round. I'll add more ginger and just a little less sugar. This was a bit sweet for me but easily rectified by diluting it and adding ice. Sorrel is best served ice-cold. For my household, I omitted the rum because I wanted to be able to drink it at any time during the day, and also I wanted my children to be able to taste it. My children drank it several times, and that truly made me happy.
A traditional Jamaican Beverage for the Christmas Holiday Season
Ingredients
3 Cups Dried Sorrel
1 inch Root Ginger, shredded
12 Whole Cloves
5 Pimento Leaves
6 Cinnamon Leaves
12 Cups Boiling Water
2 Cups Granulated Sugar
1 Tbsp Freshly squeezed Lime Juice
1 Tbsp Rice
Instructions
Rinse the Sorrel sepals in a strainer under cold water for just a few minutes
In a very large pot, add sorrel, ginger, rice grains, cloves pimento leaves and cinnamon leaves
Pour boiling water over the contents of the pot and cover for 24 hours
Strain the liquid into another large pot and add sugar and lime juice
Stir to combine
Transfer into bottles and chill
Serve ice cold
Notes
This yields just over 2 litres of sorrel (optional) 1/4 Cups White Rum can be added to the pot after the sorrel has been strained and sweetened
http://lovelypantry.com/2012/12/jamaican-sorrel-for-sundaysupper/
So some of you may be wondering…"What is Sorrel?". Jamaican Sorrel is a type of Hibiscus plant (
Hibiscus Sabdariffa
). The sepals are used either fresh or dried to make a refreshing cold beverage or a hot tea. Sorrel can also be used to make Jams and Jellies. Sorrel is seasonal and is ready around December-January, making it the perfect holiday beverage.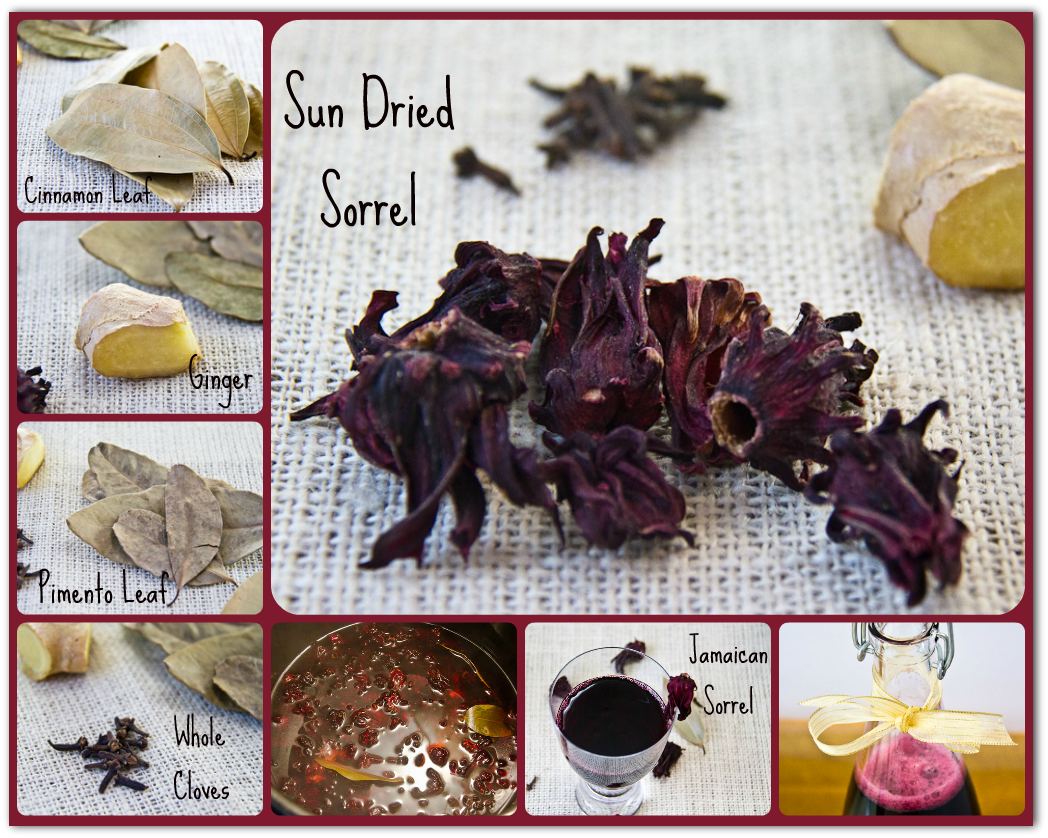 This is a very important step. Steeping the Sorrel for at least 24 hours allows for a very rich, full-bodied liquid. I allowed mine to steep a little longer. I love all the natural ingredients that make up this drink. If unsweetened Sorrel wasn't so extremely sour, I'd omit/reduce the sugar. But the sugar is a very necessary component. Substitutions will ruin this drink.
Once strained, sweetened and chilled – Sorrel is ready to be enjoyed!
The perfect glass of Sorrel …
Sorrel is an excellent gift. It can be made with or without alcohol – either way, it is extremely enjoyable. It can also be kept in the fridge for a long period of time! Especially with the addition of rum as a preservative.
Holiday Cocktails
Holiday Appetizers or Hors d'oeuvres
Do you have a favorite dish or beverage to take to a party?  Please join on us on Twitter throughout the day during#SundaySupper on December 16th.  
We'd also love to feature your recipe for holiday parties on our #SundaySupper Pinterest board to share them with all of our followers, too.
** Due to the tragic events in Newtown, Connecticut, we will not be having a live chat this Sunday December 16, 2012. Our hearts and prayers go out to the souls lost and the affected families. **