It has been a few weeks since I've been in this space. It took a few inquiries to realize how long it has really been since my last post. Funny how time flies when you're having fun! I'm truly happy to get back to some sort of "normal" as my life is falling into a new routine. In life's many twists and turns, there is never a dull moment. Through it all, one thing for sure that I have learned is to always live in gratitude. I'm grateful to be able to share a post with you today.
Upon realization that I would have to spend my summer in Canada, I decided that this summer had to be special. A summer filled with firsts – my favourite kind of experience. There's no use dwelling on how things used to be. Things are changing, so its time to embrace what is coming and smile while you're at it. Earlier this year, I was suffering with a bout of chronic pain and I vowed to feel better before my birthday. I spent weeks in physiotherapy and made some major changes to my diet. No joke – I even gave up baking for a few months. I also limited my consumption of grains/legumes and reduced my wheat intake drastically. I started to feel different and also look different. Which was perfect considering one of my favourite experiences this summer was participating in Toronto's annual Caribbean Carnival – Caribana. Yes, I did it. I put on a costume and walked (and sometimes danced) for hours, all the while praying that I would not suffer too much when it was all over. I'm grateful that I had an awesome, pain-free experience.
I have more things to be grateful for. I have a houseful of students! My husband has been on a course for quite some time now. My son just started First Grade and my daughter is officially in Kindergarten. Oh, and there's more. I also returned to school. Can you believe it? I'm officially a University student! So many changes are happening all in one go. If I thought I was busy before, well I guess life just got busier. We all have to run with it and try not to get overwhelmed. We are doing exactly what needs to be done. This is indeed a September like no other!
Now that the summer is over, I can reminisce on food from home and maybe even steal some time to whip up a few things. I could not wait to try this Jamaican Hard Dough Bread recipe by Enid Donaldson. There is no bread that compares with authentic Jamaican Hard Dough Bread. I am fully aware that I'm biased, but I need you to understand. Jamaican Hard Dough Bread is the TRUTH! You just can't go wrong! Although I don't eat as much bread as I used to, I will still bake from time to time and share my experience. The occasional slice will be just enough for me.
For those who are not familiar with Hard Dough (or "Hardo Bread" as we call it) please allow me to provide a sort description. Hard Dough bread may be considered a true staple in Jamaican fare. It is a basic white bread. There are whole wheat versions available too as a healthier alternative. Hard Dough Bread is a rich, dense, chewy textured bread that can be eaten at any time of the day. It can be enjoyed with the following meals: Ackee & Saltfish, Steamed Callalloo (similar to spinach), Corned Beef (in a sandwich, if you like), Cheese, Jerked Chicken, Jerked Pork, Fried Fish, Avocado, Fried Eggs, your favourite porridge, Jamaican Hot Chocolate, your favourite fruit preserve (I LOVED Guava Jelly on my Hardo Bread), French Toast, or even just a slice with butter – you name it, it works well. Just trust me on this one. You can't go wrong.
Jamaican Hard Dough Bread
Ingredients
2lbs All Purpose Flour, Unbleached
2 Tsp Instant Dry Yeast
4 Tbsp Granulated Sugar
2 Tsp Salt
6 Tbsp Unsalted Butter
2 Cups Water
Instructions
In a large mixing bowl, combine flour, yeast, sugar and salt
Using a pastry cutter (or your fingers) incorporate the butter into the flour mixture
Gradually add water and knead for about 15 minutes using the kneading attachment of your mixer
Remove from the mixing bowl and form into a boule
Place dough into a well greased bowl and cover with a towel for at least 40 minutes
Preheat oven to 375F
Remove the risen dough to a floured surface. Divide into two equal parts then shape dough to fit into 2 well greased loaf pans
Bake for 25-30 minutes
Remove from oven and allow to stand for 10 minutes before transferring to a wire rack to cool completely
Notes
Adapted from The Real Taste Of Jamaica by Enid Donaldson
http://lovelypantry.com/2013/09/jamaican-hard-dough-bread-gratitude/
I saw the ingredients and loved how easy it was to prepare. However, I thought the suggested quantity of butter was not enough for 2 loaves, in my opinion. Being the rebel that I am, I added more butter. Yes. Yes I did.
I loved that I didn't have to get too physical with this dough. Cutting in the butter was the step that used the most energy.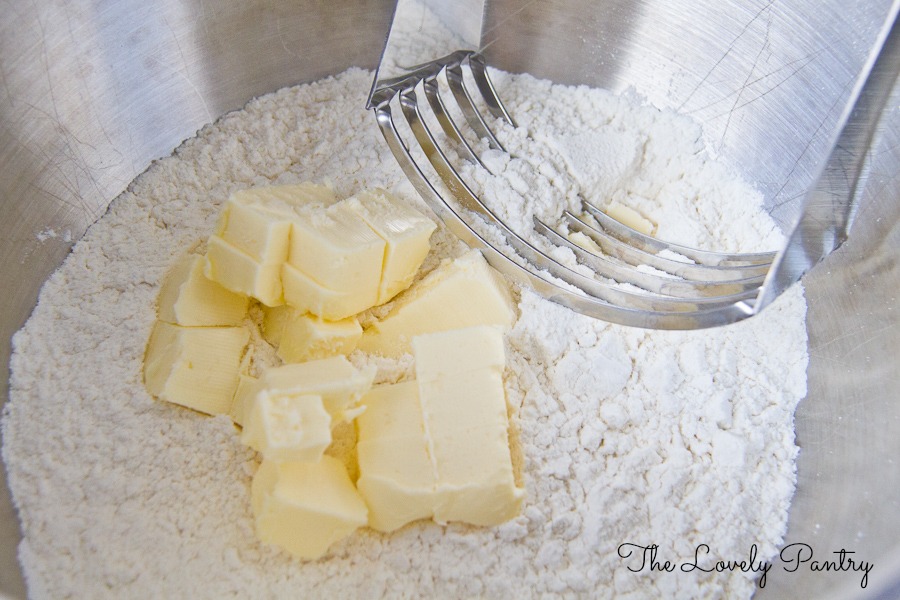 My handy-dandy dough kneading attachment did the hard work for me.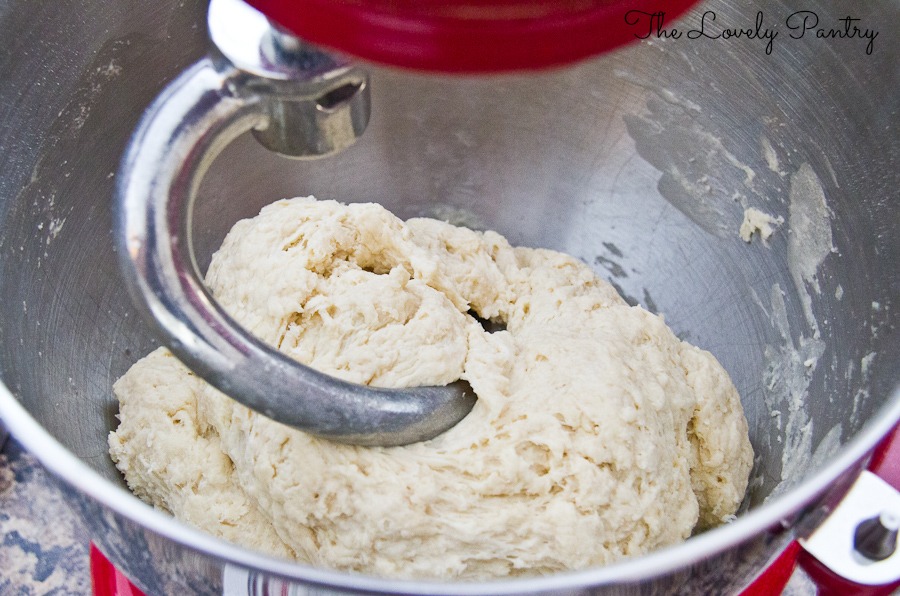 The dough did not rise too much, but you could definitely see a change in volume.
Both loaves turned out perfectly. I have no complaints whatsoever. We all enjoyed this bread very much. The next time I make it, I will have to give a loaf away. It's too good not to share!
As much as I love Hard Dough Bread, I haven't found any in local stores that taste great to me. Usually the bread is just too hard or has a weird texture. Although this bread isn't as dense as the "Hardo Bread" I know and love, it is a great alternative. I will wait until I am in Jamaica to fully enjoy my Hard Dough Bread. But until my next visit, I will gladly use this recipe and have freshly baked Hard Dough Bread whenever I'm in the mood.
read more