Ackee & Saltfish
Ackee, oh Ackee. Ackee is Jamaica's national fruit. Ackee paired with Saltfish (Salted Codfish) is Jamaica's National Dish. This is a dish that is near and dear to my heart, as my Mother always prepared it for my family on the weekend. She makes it so very well. I remember having to "flake" the saltfish (not often, a few times perhaps) to remove the bones and to reduce them into smaller pieces the night before for easy preparation in the morning. I hated having to pick out the bones, but boy did I enjoy eating it! I was in the mood for traditional Jamaican fare so I gathered my ingredients to make Ackee and Saltfish served with fried Bammy and fried Plantains.
Recipe Type:
Breakfast, Lunch, Dinner
Author:
Total time:
1 hour 30 mins
Jamaica's National Dish, Suitable for Breakfast, Lunch or Dinner. It can be served with Fried Dumplings, Boiled Dumplings, Fried Bammy, Boiled Banana, Fried Plantains, Boiled Yam, Roast Yam or White Rice
Ingredients
2 Dozen Ackees (or 2 Tins of Ackee)
1/2lb Salted Codfish
1/4 Cup Coconut Oil (or vegetable oil)
1 Medium Tomato, chopped
1 Red Sweet Pepper, chopped
1 Green Sweet Pepper, chopped
1 Onion chopped, or thinly sliced
Salt and Pepper
A few Pimento seeds (optional)
1 Tsp All Purpose Seasoning (optional)
A pack of Bammy (8 small round Bammies)
1 Ripe Plantain
1 Cup Milk
1 Tbsp Sugar
2 Tbsp vegetable Oil
1 Tbsp Butter
Oil for frying the plantain
Instructions
Soak the saltfish overnight in a covered pot. In the morning, pour off the water. Add fresh water and bring to a boil. Taste the fish to ensure that most of the salt has been boiled off. If it is very salty, pour off the water, add fresh water and boil again. This should be enough. The saltfish should not be bland. Pour off water and allow to cool. Using your fingers, break the fish into small pieces while removing any present bones. Be careful, the bones can be very small. You should end up with a heaping cup full of flaked saltfish.
If using canned ackees, drain liquid from the ackees and add to a pot of boiling water for about 2-3 minutes. Drain and set aside.
If using fresh ackees, boil in salted water for about 15 minutes, or until ackees can be pierced with no resistance with a fork. Do not overcook. Drain and set aside
In a large skillet or dutch oven, warm the oil over medium heat
Add onion, tomatoes and sweet peppers. Sauté until softened about 5 minutes
Add saltfish and stir to combine
Add ackee to the pot
Add salt and pepper
Give a gentle stir so that you don't break up the ackee
Cover and allow to simmer for about 15 minutes
Gently stir to fully combine. Season with salt and pepper to taste
For the bammies:Dissolve sugar in a cup of milk. Pour into a shallow dish. Place bammies into the milk and leave for about 5 minutes. Flip onto the other side. The bammy will absorb the milk.
In a medium-hot skillet with oil, fry the soaked bammy in oil and butter until golden brown, about 8 minutes on each side
Place on a paper towel to soak up oil from the bammy. Set aside
Thinly slice the plantain on the diagonal. Fry each piece in hot oil until brown on both sides. Place on paper towel to absorb oil
Serve and enjoy
Notes
Be careful not to overcook the ackee as it will get extremely soft and turn into mush
If you do not have saltfish available, crispy bacon is a great substitute. Just fry and break into bits.
A whole Scotch Bonnet pepper is an optional ingredient and would be added along with the ackee and allowed to simmer. Remove before serving, taking care not to pierce the pepper
Charlene, a friend and a Jamaican photographer, has allowed me to use her photograph of Ackee in the pods so I can share with you all. This is not something that you can see in North America. I grew up with an Ackee tree on my family property so I saw this often. Here in Canada (and in the United States), you buy Ackee from the tin. I've had it an it is not at all bad. It's a great way to still have Ackee.
To see more of Charlene's beautiful photography, please click on the photograph.

Soak the saltfish overnight, or at least for a few hours. I soaked mine overnight then started the boiling process in the morning to reduce the salt. The fish should still have a certain amount of salty taste to it, otherwise it won't taste great and then you'll have to add salt back to the dish. In this photograph, I have about a pound of saltfish but I only used half. I reserved the other half for another special recipe.
Lovely fresh ingredients (I didn't end up using the scallion)
The main ingredients: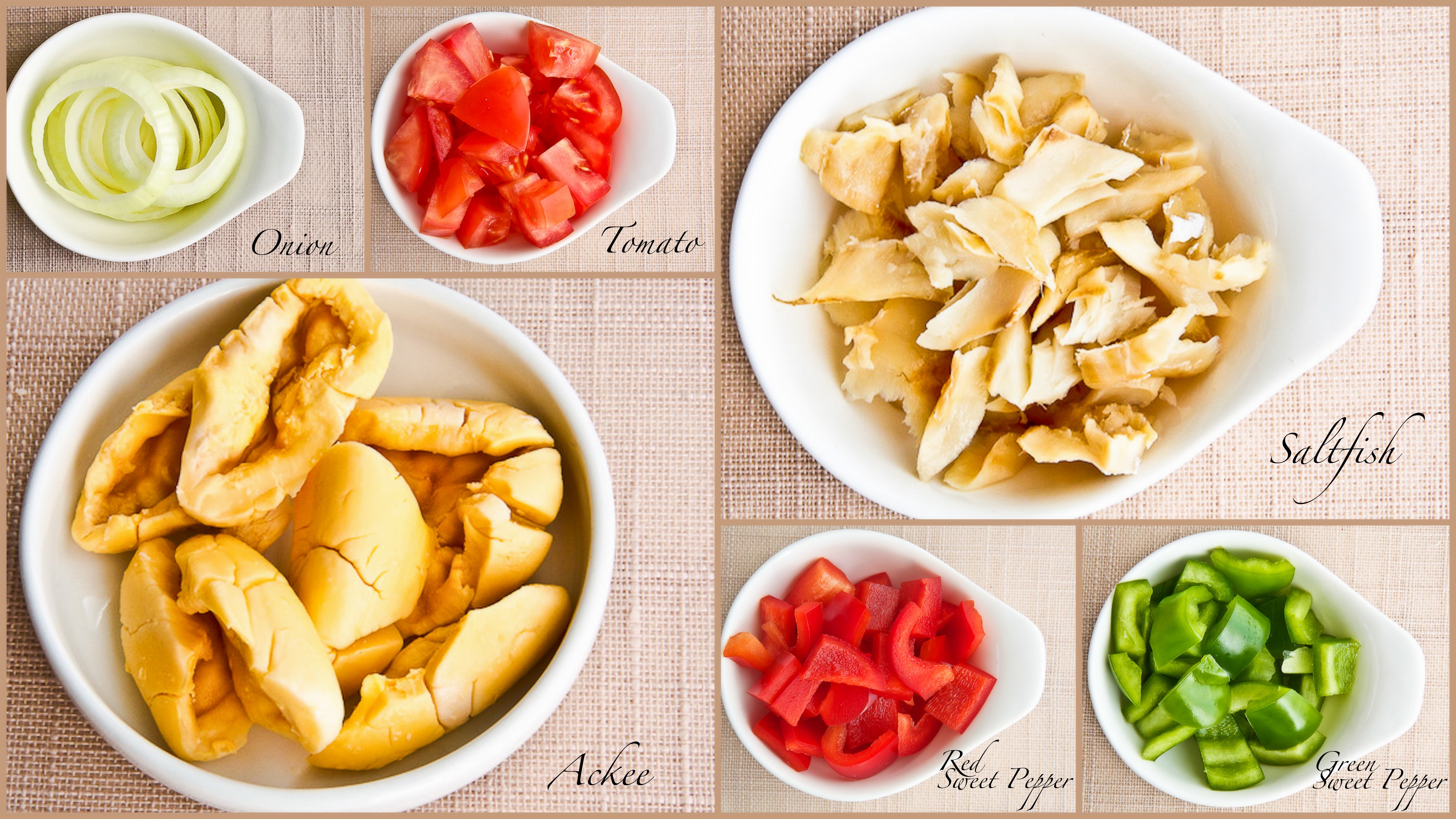 Bammy is a thick version of a flatbread made from cassava. Bammies can be soaked in either milk or coconut milk. Then it can be baked or fried until browned and cooked through. It has a very light and delicate taste and can be enjoyed with a variety of meals. It's great for soaking up gravy!
Such an amazing aroma.
Ackee and Saltfish are cooked though, and ready to be served
Ackee and Saltfish is likely to be served with fried dumplings. My Mom is an expert at making fried dumplings. I have yet to try my hand at that so Bammies are where it's at until I  try the dumplings. This is generally a breakfast dish, but I have had it for dinner too, as I did here.
I hope you enjoyed today's post. I really like making traditional Jamaican dishes and sharing with everyone. I don't generally prepare traditional meals but I'm willing to try every now and again.
Have a super week!
~Lyn