Whole Wheat French Toast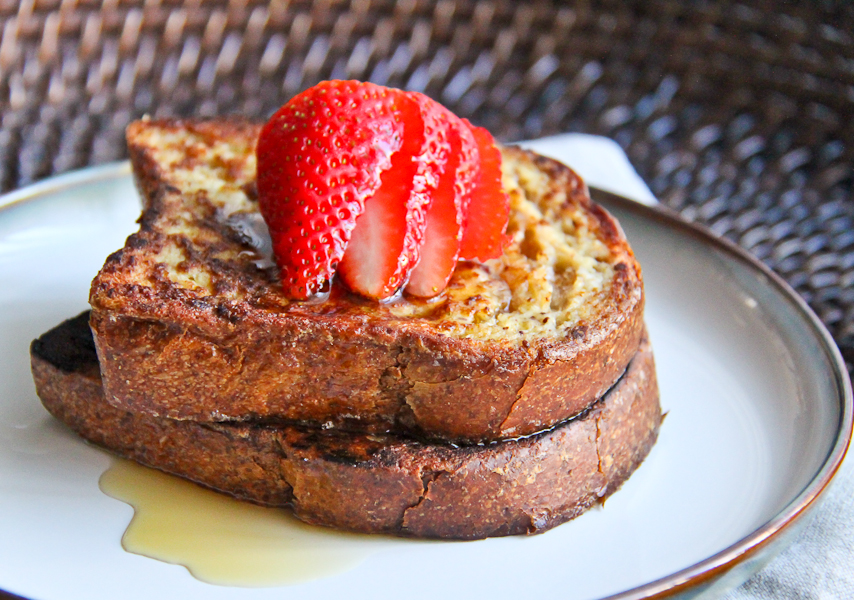 Hello friends! Can you believe it's already February? Wow, time certainly flies. I'm looking forward to creating more recipes and working on my photography. How am I doing so far? I'm so excited for what this year has in store! My love for photography is never-ending! And apparently, its keeping a lot of folks quite hungry too

I picked up a loaf of whole-wheat homestyle bread at the supermarket and I couldn't wait to dig into it. The thing is, when you buy a loaf of bread like this, you have to eat it all within a day or so of cutting it otherwise it will get hard. After that, the only thing it will be good for is breadcrumbs. And that's not a bad thing ~ I'd just prefer to eat it

. I thought it would be a good idea to make French Toast using lovely thick slices of fresh bread. Its a family favourite and its a change from the usual suspects around breakfast time. I used French Bread before to make French Toast. Do you remember that post? Here it is: Stuffed French Toast. That was some tasty toast! But time is always a factor in getting breakfast ready. So the traditional way was good for me this time around. The kids loved it and so did I!
Author:
An easy breakfast for the family to enjoy
Ingredients
1 Loaf Whole Wheat Bread
2 Eggs
1/2 Tsp Cinnamon
1/2 Cup Milk
Butter
Instructions
Slice loaf into thick slices, about an inch thick
In a rimmed dish, whisk eggs, cinnamon and milk until well combined and a smooth consistency is achieved
Dip each slice of bread into the egg mixture ensuring that both sides absorb some liquid. Be sure not to over soak the slices
In a skillet, melt about 2 tbsp butter (to start as you'll need more as you go along)
Place each slice of bread in the skillet, browning on each side for about 3-4 minutes until golden brown
Serve with fruit and maple syrup
Notes
Makes about 8 slices of french toast.
Happy Wednesday!! ~ Lyn