Welcome to March! So long February and hopefully spring weather will be right around the corner. With a new month comes a special season – Easter, for those who celebrate. We also have St. Patrick's Day coming up too.  Today I'm sharing a very interesting recipe that caught my eye. I saw Zucchini as the main ingredient and wondered how on earth would that work with a bun recipe? I was pleasantly surprised with the result.
In Jamaica during the Easter season, Jamaicans enjoy a cake/bread called "bun", usually served with a local cheese. I made my very first Jamaican Easter Bun last year using a recipe my Mom used to use while we were living in England. When you are living outside of Jamaica, it is very hard to find a real authentic bun that tastes like those from home. So I decided to try different recipes and save the really good ones. Soon I realized that there are quite a few variations being used these days. I'm not sure if these variations are being sold at the supermarkets in Jamaica – I haven't heard of that yet. I'm happy to see the creativity by those who choose to deviate slightly from a traditional tasting bun. My first deviation from the norm, was a Sweet Potato Bun. I was delighted at how lovely it was! I'm sure I will be making it again this season.
Now, a bun made with zucchini is bound to raise some eyebrows. I've never heard of such a thing
Jamaican Zucchini Spiced Bun #Easter #TwelveLoaves
Ingredients
2 1/4 Cups All Purpose Flour, Unbleached
1 Cup Granulated Sugar
2 Tsp Vanilla Extract
1/8 Tsp Salt
3 Tbsp Orange Juice
4 Tsp Molasses
1 1/2 Tsp Mixed Spice
1/2 Tsp Orange Zest
1/2 Tsp Cinnamon
1 packet Active Dry Yeast
1 1/2 Tsp Baking Powder
3/4 Cups Water
1/2 Tsp Almond Extract
1 Cup Shredded Zucchini
1 Cup Raisins
1/2 Cup Golden Raisins
Instructions
Proof the yeast: In a small bowl, combine yeast, 1 tsp sugar and 1/4 cup warm water. Cover and leave for a few minutes while it activates (foaming will occur)
Spray and flour a loaf pan. Set aside.
In a large mixing bowl, add flour, sugar, salt, mixed spice, orange zest, cinnamon, and baking powder. Whisk to combine.
Using a standing mixture with a paddle attachment, add and mix in the water, vanilla, molasses, and almond extract.
Mix in the yeast mixture
Fold in the zucchini, followed by the raisins
Pour mixture into prepared loaf pan. Cover and set aside for about an hour.
Bake at 350 for 50 minutes or until toothpick inserted comes out clean
http://lovelypantry.com/2013/03/jamaican-zucchini-spiced-bun-easter-twelveloaves/
I found this recipe in the Jamaica Observer's Easter Cookbook 2012. I probably overlooked it before because it used yeast. I adapted this recipe by using half the ingredients,  omitting rum and replacing it with orange juice. I also substituted mixed peel for golden raisins. I'm just not a mixed peel kind of lady. I think the Chefs that came up with this recipe did a great job. I'm glad that my adapted version came out well.
Zucchini added such wonderful moisture to this loaf. I felt good knowing that this vegetable was present. The raisins added a familiar burst of sweetness. A great combination!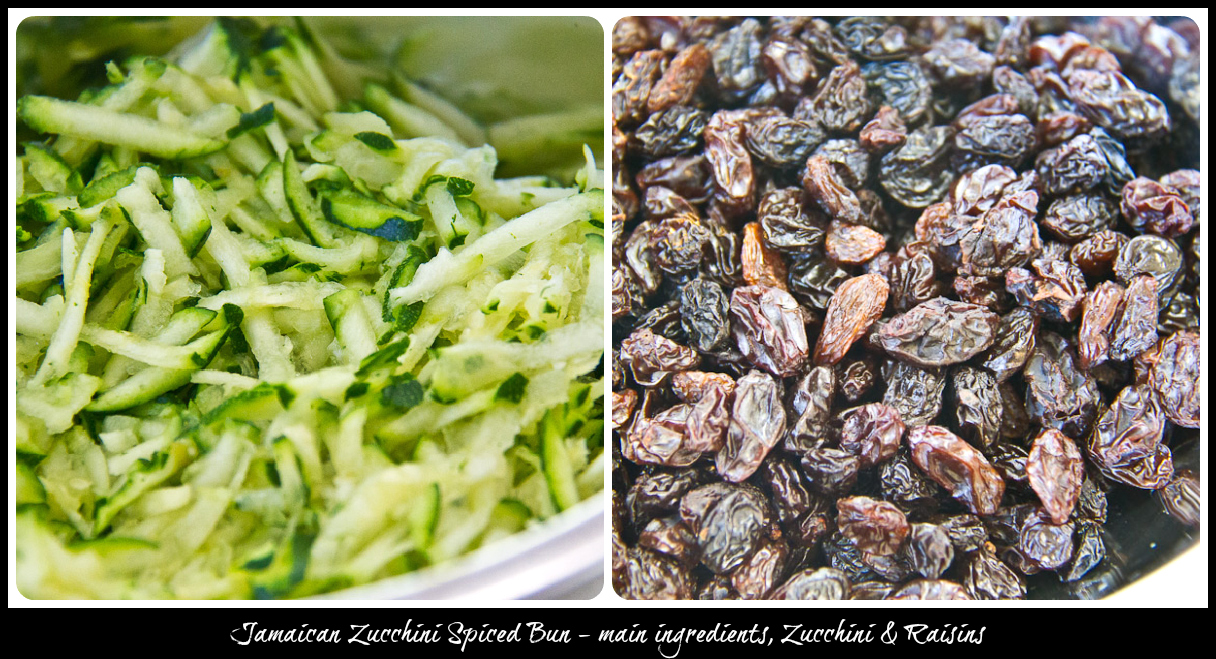 Look at all those raisins! No doubt, this bun smelled marvellous while it was baking.
And there you have it. A twist on a traditional Easter staple, using fresh zucchini and raisins. This is my contribution to this month's #TwelveLoaves challenge. We will be focusing on holiday themed bread for the holidays celebrated during the month of March . Bake a bread (yeast or quick bread), loaf or individual. Do you have a favorite Easter or St. Patrick's Day Bread? We would love to see it. Let's get baking!
Look at what our very talented #TwelveLoaves bakers have created this March!
We would love to have you join our #TwelveLoaves group! It's easy!
1. When you post your Twelve Loaves bread on your blog, make sure that you mention the Twelve Loaves challenge in your blog post; this helps us to get more members as well as share everyone's posts. Please make sure that your Bread is inspired by the theme!
2. Please link your post to the linky tool at the bottom of my blog. It must be a bread baked to the Twelve Loaves theme.
3. Have your Twelve Loaves bread that you baked this March, 2013 posted on your blog by March 31, 2013.
read more