Winter is wonderful for many reasons. Sure it is cold, but you get to indulge just a little and have foods that you probably wouldn't have in warmer weather. I love a good hearty thick soup with texture and things to chew on. But I'm not opposed to a rich flavourful broth filled with goodness. This our Souper #SundaySupper edition. You guessed it ~ its all about soups. We will be sharing soups that can be loved year round. Our lovely host this week is Pam from The Meltaways. Whatever your fancy, we will have a soup for your liking.
I am sharing a soup from a cookbook by Levi Roots called Caribbean Food Made Easy. I adore the soups in this book. The last one I made was Black Bean Soup with Hot Roast Pepper Cream and it was wonderfully delicious. This recipe, Ital Carrot and Sweet Potato Soup, is just as wonderful with a bright colour, rich in beta carotene, fibre and other nutrients. I chose to omit the scotch bonnet pepper this time though. I really wanted the kids to try it
A little heat will bring this soup to the next level.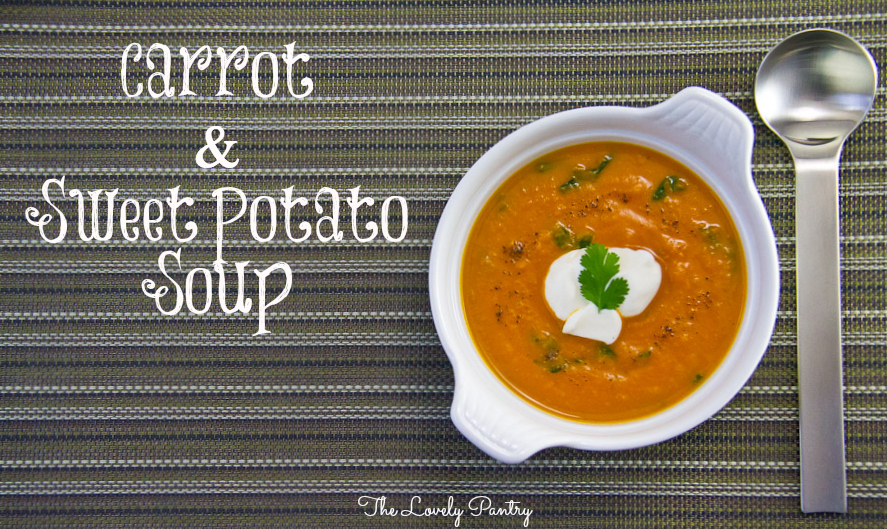 Oh, and for those who are unfamiliar with the term "Ital" it is a term mostly used by Rastafarians and means pure and natural (pertaining to food and lifestyle). Ital is a derivative of the word Vital.  Ital Food, is food that is produced from the earth. Ideally, this food is grown without pesticides or as we say in North America, Organic. But aside from that, it is basically a vegetarian way of life. Not all the ingredients in this recipe were organic, but I feel really good about it regardless
(I could totally live like this if only I didn't like a little thing called bacon.)
Ital Carrot and Sweet Potato Soup for #SundaySupper
Ingredients
4 Cups Pure Carrot Juice
2 Sweet Potatoes, washed, peeled and cut into chunks
1 540ml Can Salt Free Chickpeas, drained
4 cm Chunk of creamed coconut (I used Grace brand Cream of Coconut)
1 Inch Fresh Ginger, peeled and finely chopped
1 Clove Garlic, finely minced
Leaves from 2 Springs Fresh Thyme (about a tsp)
2 Cups Baby Spinach, washed and dried (cut into thin strips just before adding to the soup)
1 Tbsp Unsalted Butter (optional)
A pinch of Black Pepper
Fat Free Sour Cream to serve (optional)
Instructions
In a medium pot, bring carrot juice to a gentle boil. Remove any foam that develops with a spoon and discard.
Add sweet potatoes, chickpeas, creamed coconut, ginger, garlic and thyme.
Cover and allow to simmer for about 30 minutes
Check to see that the sweet potato is soft enough to mash.
Using an immersion blender (or potato masher) blend to your desired consistency
Stir to combine. The soup will be thick. If it is too thick, adjust consistency to your liking by adding more carrot juice
Cover and simmer for about 2 minutes
Shred the spinach
Stir the soup and add the spinach. Cover and simmer for about 5 more minutes.
Add butter and stir before serving
Season with black pepper
Garnish with sour cream (optional)
Notes
Adapted from Caribbean Food Made Easy
http://lovelypantry.com/2013/02/ital-carrot-and-sweet-potato-soup-for-sundaysupper/
I used packaged cream of coconut, but if I were in the tropics I would (or perhaps get someone else to) crack open a coconut and get the milk from it!
Not often do you hear of a broth being replaced by the juice of a vegetable. I loved that the carrot juice was the base of this soup. Thankfully Organic Carrot Juice is available for purchase. This soup was ready in under an hour. Imagine adding juicing time to that plus clean-up. This way is much better. You may have noticed that salt was not added to this soup. I was tempted to add it but I found that the flavour was great without it! Truly Ital!
I chose to serve this wonderful soup with some homemade bread. I toasted it and added butter while the bread was still hot. Pure bliss! I'll be sharing the recipe for this very, very special bread soon.
Although the sour cream was optional, I enjoyed it so much with this soup!! It was perfect on its own, but the tangy flavour with the natural sweetness of the soup was a great combination. This soup is hubby approved! He loved it and also loved that it was Ital
The #SundaySupper team have some amazing soups to share with you. Please take your time and find inspiration from the recipe links below:
Chicken (or other poultry) Soups
Beef Soups
Pork (or Sausage) Soups
Seafood Soups
Vegetables Soups
Chilled Soups
***
Join the #SundaySupper conversation on twitter each Sunday. We tweet throughout the day and share recipes from all over the world.
Our weekly chat starts at 7:00 pm ET and you do not want to miss out on the fun.
Follow the #SundaySupper hash tag and remember to include it in your tweets to join in the chat.
Check out our #SundaySupper Pinterest board for more fabulous recipes and food photos.
Join us Around the Family Table this Sunday at 7pm Eastern Time and share your favorite healthy recipes with us!
read more