Welcome to the Valentine's edition of #SundaySupper. Today we are sharing things we prepare for our loved ones. Our fabulous host is none other than Jen from Juanita's Cocina! I'm looking forward to seeing all the wonderful main dishes, desserts and drinks being shared today!
My family loves sweet treats. Because of this, I try to substitute and lighten things up a bit or just keep it really simple. I love cooking and baking for them. Its one sure way that I can express my love for them. I knew exactly what I was going to make for today's #SundaySupper. My kids ask for this cake often enough ever since I made it for the first time a few weeks ago. My baby girl can probably list the ingredients because she has been right there beside me each time I have made it. I've even offered it as a gift to a gathering that we went to recently. Total win. Simplicity at its very best.
Originally I was planning to post Bailey's Banana Cream but it didn't taste the same as how I did it the first time. So since I clearly haven't perfected it, I will stick with the Banana Cream. It is the perfect complement to the Banana Cake. This recipe is from my very special book, A Real Taste of Jamaica by Enid Donaldson. There is absolutely no way that bananas should ever go to waste. Not with recipes like this one.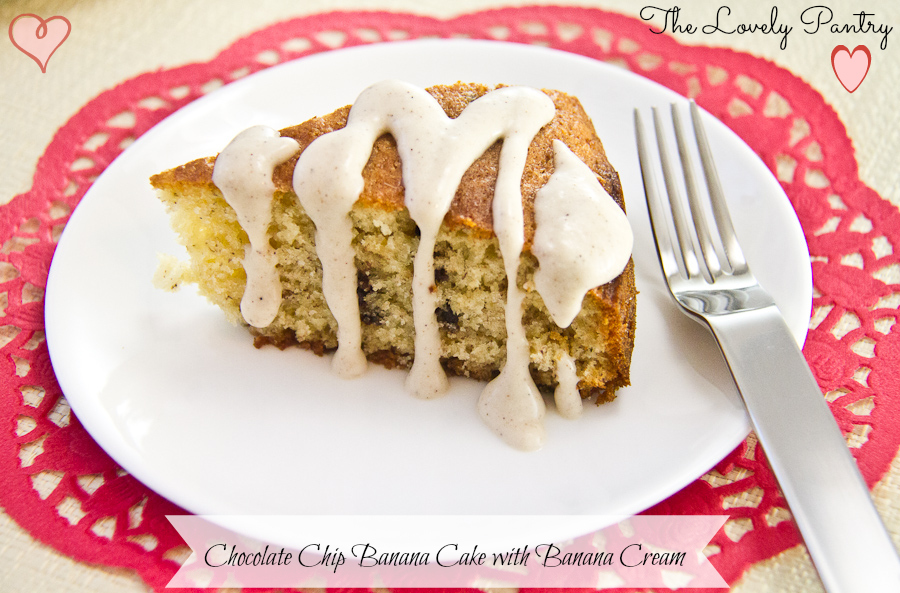 Chocolate Chip Banana Cake with Banana Cream for #SundaySupper
Ingredients
1 Cups All Purpose Flour, Unbleached
1 Tsp Baking Powder
1/4 Tsp Baking Soda
1 Eggs
1 1/4 Very ripe Bananas, mashed
1/2 Stick of Unsalted Butter
2/3 Sugar
1 Tsp Vanilla
A pinch of Cardamom
1/4 Cup Mini Chocolate Chips
**Banana Cream**
1 Very Ripe Banana
2 Tbsp Sugar
1/4 Tsp Allspice
3/4 Cup Whipping Cream
Instructions
**Banana Cream**
Do this before you make the cake so that it can be refrigerated for a while.
Whip cream either using a whisk, mini blender or regular blender. I used my Magic Bullet.
Mix in the banana, sugar and allspice.
Store in a small container in the fridge until the cake is ready to be served
***
Preheat Oven to 375F
Grease an 8-inch pan and line the base with parchment paper.
In a medium bowl, sift flour, baking powder, baking soda, cardamom and salt
In a large mixing bowl, cream sugar and butter.
Add egg and mix to combine
Add mashed banana and vanilla, then mix to combine
Add the flour mixture into the banana mixture and mix just until combined. Finish combining by hand with a spoon if needed.
Fold in the chocolate chips
Bake for 25 minutes or until an inserted toothpick comes out clean
Remove from oven and transfer to a cooling rack.
Allow to cool for about 30 minutes before slicing.
Serve topped with Banana Cream
http://lovelypantry.com/2013/02/chocolate-chip-banana-cake-with-banana-cream-for-sundaysupper/
I didn't change much when it came to the ingredients. I added a pinch of cardamom – just because. For the Banana Cream I replaced nutmeg with allspice. Nutmeg isn't my favourite. I'll use it when I have to but for this recipe, the allspice was a lovely addition.

The chocolate chips are an additional treat for this recipe. By itself, it is simply wonderful. The aroma while it is baking is heavenly. Once baked, you'll find yourself wanting more and more. I speak from personal experience. The banana adds such rich moisture to this cake.
I was bringing desert over to a friend's house recently. I wanted to dress up this sweet wonderful cake. I doubled the recipe and split the batter. Added chocolate chips to one half and left the other one plain. I decorated the plain cake with slices of banana. Oh, how I love a pretty cake. This cake goes well with Vanilla Ice Cream, of course.
The cream was really lovely. I wondered at first if Banana Cream with Banana Cake would be too much banana. Well, the answer was no. It wasn't. It was awesome. My kids loved it and have grown to expect it whenever I make this cake. I think I will have to break them out of that expectation.
I just can't get enough of this cream! I really should figure out the Bailey's version. I must!!!
Please be sure to check out all the wonderful recipes brought to you by the #SundaySupper family!!
#SundaySupper Valentine's Day Breakfasts, Apps & Main Dishes:
#SundaySupper Valentine's Day Sweet Eats:
#SundaySupper Valentine's Day Drinks:
#SundaySupper Valentine's Day Tablescape:  A Romantic Table For Two Please from An Appealing Plan
***
Join the #SundaySupper conversation on Twitter on Sunday, February 10th to talk all about Valentine's eats and treats!
We'll tweet throughout the day and share recipes from all over the world.  Our weekly chat starts at 7:00 pm ET and you do not want to miss out on the fun.
Follow the#SundaySupper hashtag, and remember to include it in your tweets to join in the chat.
Check out our#SundaySupper Pinterest board for more fabulous recipes and food photos!
read more