Spring is here and slowly, the weather is coming around. The snow is almost melted and I'm excited for what the new season has to offer. Today for #SundaySupper, we are sharing Easter and Passover recipes and our wonderful host is Carla from Chocolate Moosey! You will find lots of Easter and Passover inspiration from the #SundaySupper bloggers at the end of the post. Be sure to check them out. We have a terrific line  up for you, as always.
It's funny how you can have the worst week, yet there is always something that can help raise your spirits, or take your mind off things for a while. Stealing time to prepare my Easter Spiced Bun for #SundaySupper did just that for me this week. Out of nowhere, my routine got disrupted and I found myself riding a wave of change that I was just not expecting. Life throws things your way and you just have to swim. Sinking is not an option. Decisions have to be made and sometimes what you have to do, is essentially taking one for the team. I'm a true team player, especially for my family. So this past week was not for me at all. I sacrificed sleep, blogging and good nutrition so that I was able to get things done. My children have been absolute troopers! Waking up at 6am was unusual for them however, they managed to join me as I started my day like the wonderful little soldiers that they are. I can see this disruption coming to an end hopefully by the end of this week. I'm sure I will need time to recuperate. But I'm embracing the experience and summing it up to preparation for when the kids start school in the fall. Chances are, I still won't be a morning person by then.
So on to this awesome Jamaican Easter Spiced Bun. I've made a few buns and I must say, I'm impressed by the variety that is out there. I'm not sure if people are just tired of a standard Easter Bun or are just willing to embrace change and experiment a little. I said to a friend of mine recently, who wasn't so happy that I coined my Jamaican Zucchini Spiced Bun as being "Jamaican", we can't have just one variety of bun! Personally, I love that the main Jamaican publications are issuing Easter Cookbooks with many Easter Bun recipes. If there was only one recipe, I wouldn't have a bun recipe to share with everyone on my blog this year. It is safe to say that as long as everyone is willing to get creative, I will have something wonderful to bake and share for Easter.
Wouldn't you like to try this? A wonderful variation of a Jamaican Easter Bun … made with Red Label Wine.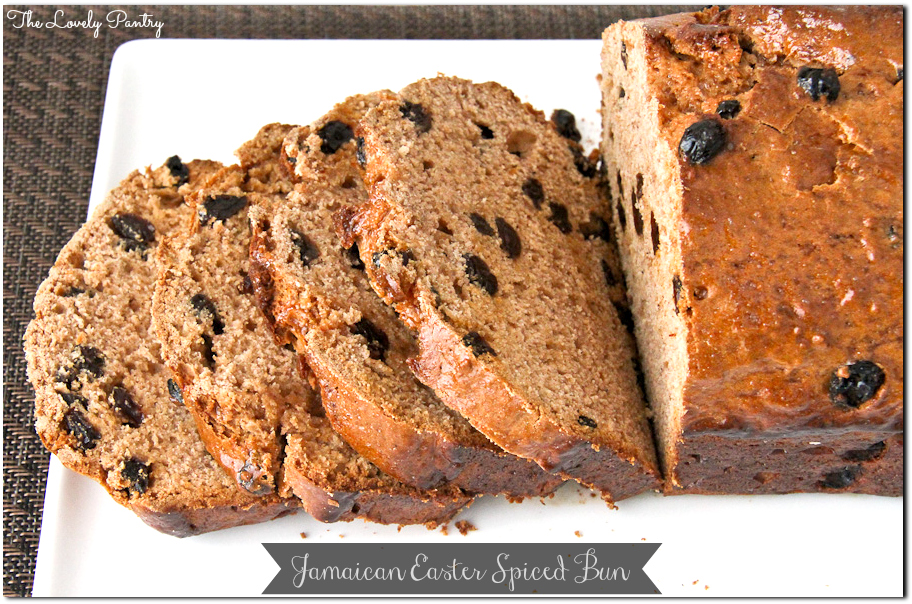 Here are the other Jamaican Easter Buns that I have made:
My very first Jamaican Easter Bun, made from a very old recipe that my Mom gave to me. I also added a brief history of the Jamaican Easter Bun
An absolute favourite of mine, Sweet Potato Bun
A moist and awesome twist on an Easter staple, Zucchini Spiced Bun 
Jamaican Easter Spiced Bun #SundaySupper
Ingredients
3 Cups All Purpose Flour, Unbleached
3 Tsp Baking Powder
3 Tsp Mixed Spice
1 Cup Dark Brown Sugar
1 Egg
1 Cup Red Label Wine (or a red wine of your choice)
1 Cup Raisins
1/4 Cup Boiling Water
1/3 Cup Unsalted Butter, melted
1 Tsp Lime Juice
1 Tsp Vanilla Extract
1/8 Tsp Salt
Instructions
Preheat oven to 350F
Soak Raisins in 1/4 Cup boiling water, set aside
In a medium bowl, combine flour, baking powder, mixed spice, and salt. Set aside.
In a large mixing bowl, beat egg until foamy.
Add sugar, butter and wine, beating after each addition.
Gradually, add the dry ingredients. Mix until smooth.
Fold in the raisins along with any liquid from soaking.
Transfer to a greased loaf pan, lined with parchment paper
Bake for 40-50 minutes or until a toothpick inserted comes out clean
Optional glaze: 1/4 Cup Brown Sugar + 1/4 Cup Water. Bring to a boil then simmer for 10-15 minutes until thick. Brush all over then bun and then put the bun back in the oven for about 5 minutes.
Allow to cool before slicing
Notes
Recipe adapted from Enid Donaldson's Real Taste Of Jamaica
http://lovelypantry.com/2013/03/jamaican-easter-spiced-bun-sundaysupper/
I turned to my favourite cookbook for this recipe. None other than Enid Donaldson's The Real Taste Of Jamaica. I'm not sure if you've ever seen a recipe and decided that you were not going to make it that way. That is what happened with me. The original recipe called for 2 cups of brown sugar. I couldn't bring myself to do it. So I just used a cup. I was also sure to use Mixed Spice, which I posted recently. I decided to increase the butter from 1 tablespoon to 1/3 Cup. I know, big difference – but it came out just great!
The batter was quite firm, but I believe soaking the raisins and having the extra liquid helped to loosen it up while folding the raisins in.
Glazing a bun is totally optional. However I prefer the texture of the bun after it has been glazed. That little extra added sweetness is really something wonderful.
I should note something about a Jamaican Bun. It is not a bread that is light and fluffy. It is a heavy, dense bread that is rich in flavours. In Jamaica, I enjoyed bun with Jamaican cheese. Since it can be quite pricey to get that type of cheese in North America, the next best thing (and probably better for you) is Cheddar Cheese. The cheddar that is closest in taste and texture is a sharp cheddar. We enjoyed ours with a mild cheddar that complimented the bun very well. Bun can be enjoyed as an open-faced sandwich as well as a sandwich type snack. I enjoy my cheese well secured between two slices of bun, with just a little butter to seal the deal.
Here are some Easter and Passover recipes to inspire you for this upcoming season!
Easter
Breakfast, Breads, and Buns
Appetizers and Sides
Main Dishes
Dessert
Passover
Dessert
Wine Pairing Recommendations for #SundaySupper Religious Feasts from ENOFYLZ Wine Blog
***
Join the #SundaySupper conversation on Twitter on Sunday, March 24 to talk all about Easter and Passover recipes!
We'll tweet throughout the day and share recipes from all over the world.
Our weekly chat starts at 7:00 pm EST. Follow the #SundaySupper hashtag, and remember to include it in your tweets to join in the chat.
Check out our #SundaySupper Pinterest board for more delicious recipes and food photos.
***Follow my blog with Bloglovin***
read more