It has been a while since I've had some quinoa. Thankfully, the lifestyle challenge that I am participating in with some friends encouraged me to find recipes using my favourite grain. My friends couldn't have asked me to join at a better time. I  needed to shake things up a bit, specifically with regards to my eating habits.
I have worked so hard to eat well and to set an example for my children. My health has been okay over the past few years (only a few chronic pain episodes) but my husband and children have taken priority. I take care of them in every way. But if it is one thing I have to remember – if Mommy isn't well, everyone suffers. Now that wasn't meant to be a harsh statement in any way. Those who know me will understand me clearly. My priority should be to take care of me, so that I can take care of the ones I love. It sounds simple as I type, but when day-to-day routine comes around, I really don't have time to figure things out. It's really just go, go, go!
And that's why it is important to get rid of old habits and create new ones that will stick. I was reminded over the past few weeks that preparation is the key to success. Last week's challenge was to commit to eating whole grains and legumes,  and not to consume meat. Eating well has never been a problem for me. It has been preparation that seems to get me. New routines have caused me to find whatever I can prepare quickly, and clearly that isn't always best. I'm working on improving that. I enjoy planning and being prepared, so this challenge has really allowed me to dust off that skill of mine. Of the few things I made, I really wanted to share this Quinoa dish. I adapted this Bean and Pilaf recipe from The Food Network, and as always I used what I had available to me when it came to the ingredients.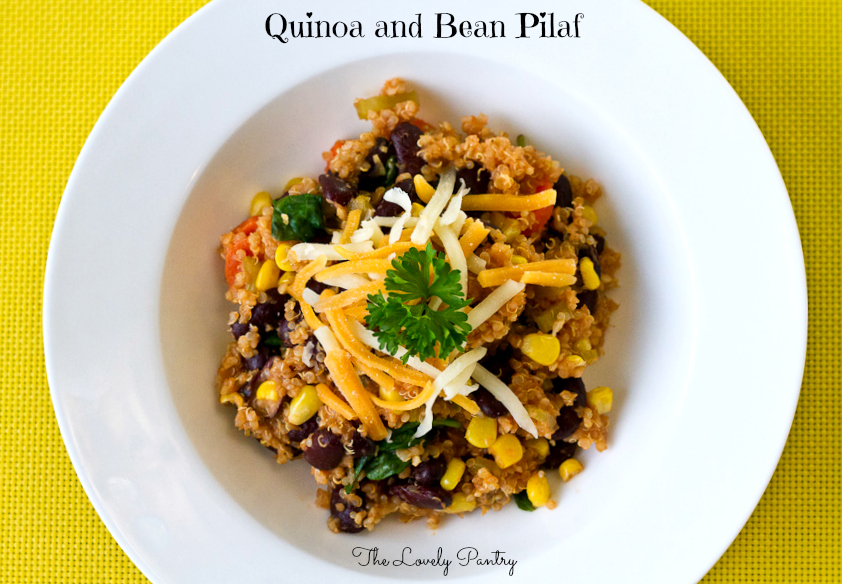 Since the start of the challenge, I have made a few things that I really enjoyed and wanted to share some of them here. I shared the photos on my Facebook page and will continue to do so occasionally during the challenge. I will post the really good ones.

Ingredients
Grapeseed oil for sauteeing
1 Scallion, thinly sliced
1 Celery stalk, thinly sliced
2 Cloves Garlic, minced
2 Tbsp Tomato Paste
1 Cup Quinoa, rinsed and drained
2 Cups Chicken or Vegetable Broth
1 Carrot, washed, scraped and sliced
1/2 Cup Sweet Corn
1/2 Cup Edamame
1 19oz can Dark Kidney Beans, rinsed and drained
2 Cups Baby Spinach
Shredded Cheddar Cheese for serving
Salt and pepper
Instructions
In a medium pot, sautee scallions and celery over medium heat for about 5 minutes.
Add garlic and a pinch of salt and pepper
Stir in the tomato paste
Add the quinoa and then the broth. Gently stir to combine
Add the carrots and beans, then cover and bring to a simmer
Check every 5 minutes until the broth is fully absorbed
Add the sweet corn and edamame. Stir to combine
When the liquid is fully absorbed, remove pot from heat and stir in spinach
Transfer to plates and top with shredded cheese
Serve and enjoy hot
http://lovelypantry.com/2013/04/quinoa-and-bean-pilaf/
Red Kidney Beans have been a part of my diet for the better part of my adult life. I usually use it one dish – my Rice and Peas. I'm loving the versatility of beans. An awesome way to get fiber and protein.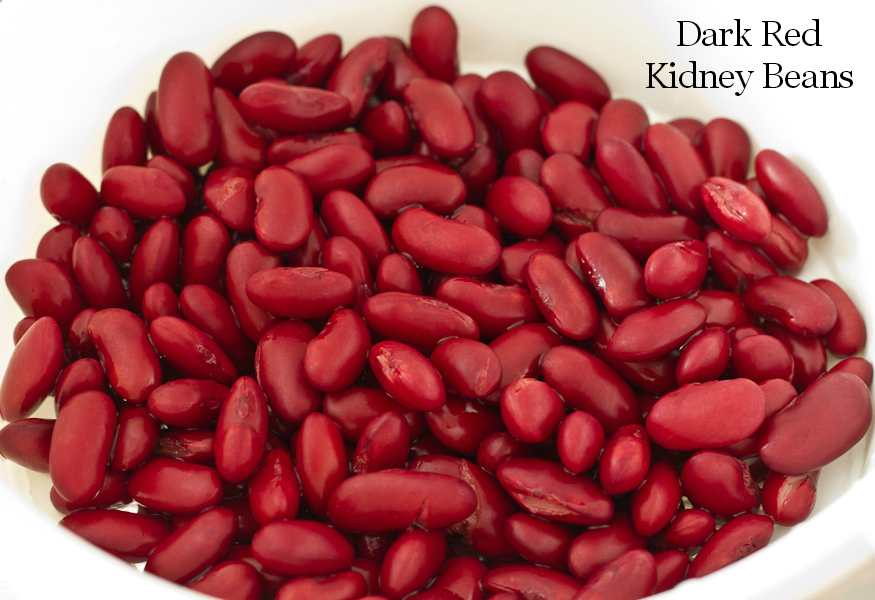 As always, when cooking with delicate greens like spinach, you add at the very end once the pot has been removed from the heat source.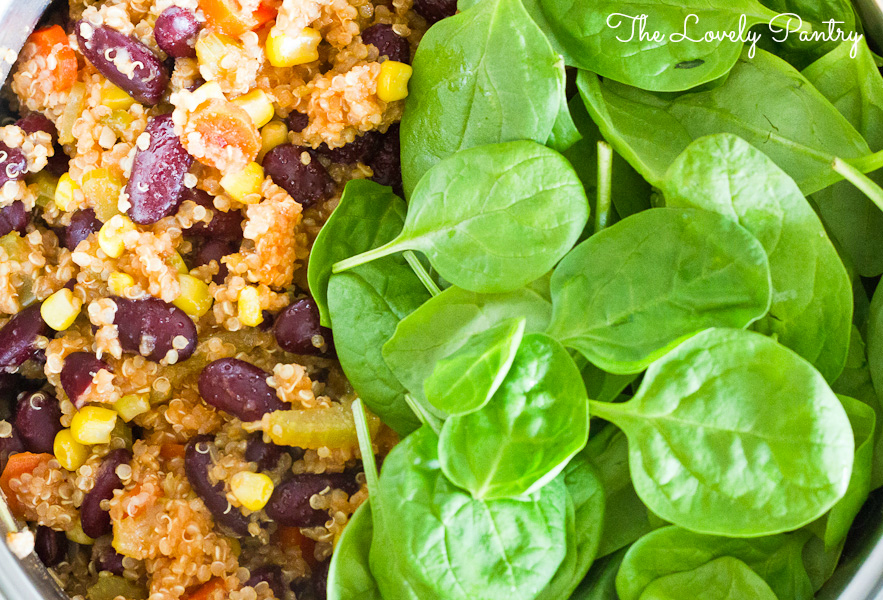 This one pot dish could easily be a mid-week supper. It is easy to make, filling and wonderfully good for you.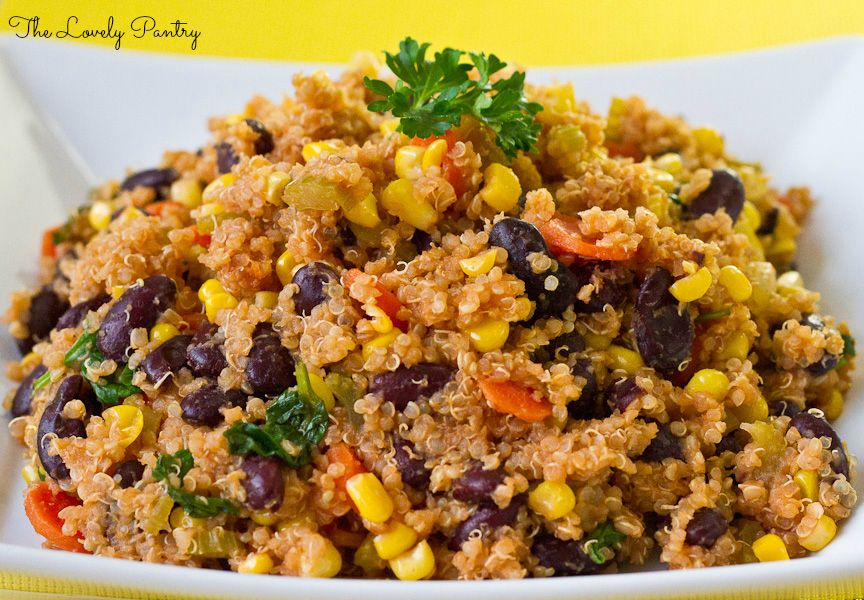 If you are looking for a quick and healthy meal, try this one. It is easy to customize based off what you have available in your fridge or pantry.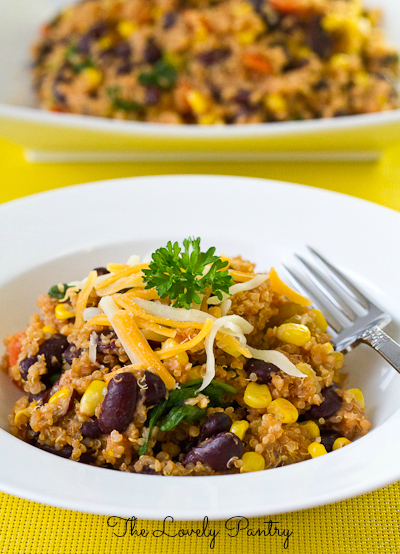 read more