I'm so excited to be joining #SundaySupper again after what seems to be a very long time. I have missed you all, and all the interaction that comes along with blogging! Life has a funny way of forcing you to slow down, so I did the  best thing for me – I slowed all the way down. I'm getting stronger and well enough to get back into the blogging spirit and share some wonderful recipes with you. Today's recipe is a good one. So simple and light, you'll love it. The theme for today's #SundaySupper is Summer Berries and well, lets just say that we haven't been short on berries around here recently. Whether fresh or frozen, we have berries for either a quick snack or for smoothies. Our host today is Nicole from Daily Dish Recipes!
One  thing that I would love to accomplish this summer, is taking my children berry picking. I don't have a preference of what berry…I just really want to pick! I am getting excited at the thought of picking strawberries and freezing them for smoothies, or baking with them. I know my kids will absolutely love that experience. I'm also looking forward to my first trip for the season to my local Farmer's Market! I went the year before last and had a blast! I'll let you all know when I get to go, because no doubt, I will have my camera with me to capture all the beautiful Ontario produce.
So back to todays recipe, Financiers with a Summer Berry Salad. The salad is so easy to make and such a wonderful way to enjoy your berries.  Financiers are French in origin and are basically mini cakes made with almond flour. They are very light, moist and every time I make them, they always seem to be finished too soon. The berries are the perfect accompaniment to the sweet, almond infused mini-muffins.
Financiers with a Summer Berry Salad for #SundaySupper
Ingredients
For the Financiers:
4 Tbsp Egg whites (or the whites from 2 eggs)
60g Confectioners Sugar
25g Ground Almonds
25g All Purpose Flour, Unbleached
2 Tbsp Unsalted Butter, melted
For the Summer Berry Salad:
1 Cup Raspberries
2/3 Cup Blueberries
1 Cup Strawberries, hulled and sliced
1 Tbsp Confectioners Sugar
Instructions
Preheat oven to 350F
In a medium mixing bowl, use a hand mixer to beat the egg whites until stiff peaks are formed
Fold in the sugar, ground almonds, flour and butter
Divide evenly in silicone mini-muffin cups (about 2 tbsp batter in each cup)
Bake for 13-15 minutes
Allow muffins to cool completely before removing from silicone cups
In a small bowl, place strawberries, blueberries and most of the raspberries. Reserve about a third cup.
Using a very fine sieve, press the reserved raspberries through in order to extract the juice and add to the bowl.
Sift confectioners sugar into the bowl and then gently fold to combine.
Serve with the Financiers. Fruits can either be chilled first or left at room temperature.
http://lovelypantry.com/2013/06/financiers-with-a-summer-berry-salad-for-sundaysupper/
I truly adore summer berries. I have such an appreciation for them because growing up in Jamaica, these berries are imported and are quite expensive. I only enjoyed and indulged in these fruits when I travelled to the U.S. for summer holidays. I personally prefer baking with blueberries. I like raspberries as prepared in this recipe. But I will eat strawberries all day long. This season, I will get my heart's desire!
I prefer to make my fruit salad in advance and have it chilled so it can be served once the financiers are cool.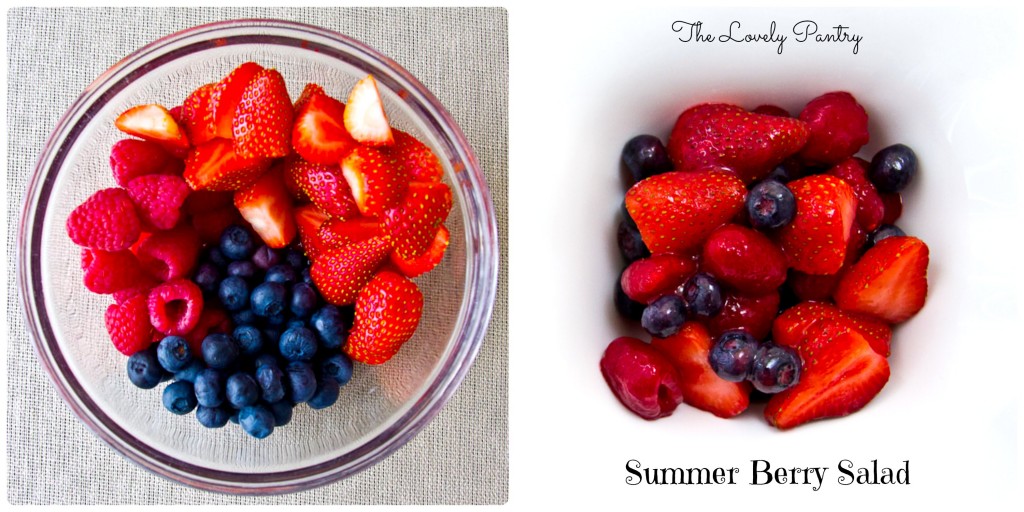 I recommend using silicone mini-muffin cups for this recipe. I tried making it directly in the muffin pan twice, and got poor results each time. The edges were slightly overdone and became rather hard once cooled. I got the best results using the silicone cups.
These financiers are excellent on their own, but they go so nicely with fruit. We have also had financiers with raspberry jam, and it is just as nice.
Find inspiration for summer berries from the #SundaySupper members in the links below. Pin the ones you know for sure are keepers. Share your favourites on Facebook! Lets get into the summer spirit!
I hope you enjoyed today's recipe. It's a favourite in my home and I hope you'll enjoy it too.
***
Breakfast & Brunch
Sweet & Savory Berry Recipes
Jams, Jelly, Sauces & More
Desserts
Cocktails, Drinks & Smoothies
Party Planning
***
Join the #SundaySupper conversation on twitter on Sunday, April 14th to talk all about movies that have inspired us to head into the kitchen – and the food that comes from that inspiration (7pm EST)!  We'll tweet throughout the day and share recipes from all over the world.   Follow the#SundaySupper hashtag, and include it in your tweets to join in the chat. Check out our #SundaySupper Pinterest board for more delicious recipes and food photos.
 ** Look what we're sponsoring! Come join us in sunny Orlando, this July! **
Learn more at www.foodandwineconference.com
 You really DON'T want to miss it!
read more