I've made chowder once before and by all means it was okay. But when I came across a recipe by a fellow Food Blogger by the name of Nami of Just One Cookbook, I had to give it a try. The main difference between this recipe and the one I had done previously, was the use of Rotisserie Chicken and Roasted Potatoes. Those two by themselves sound like pure yum, and then I made a soup out of it.
Nami's version called for a cup of Heavy Cream as the thickening agent for this recipe. To substitute, I was prepared to make a roux of some kind on the fly, but thankfully, Nami was able to tell me her quick trick (as listed in the recipe) in under 140 characters while I was preparing the chowder. Yay Nami! I omitted the bacon (I know, maybe next time) and added Edamame for a nice pop of colour and because I like the added fibre and protein
I can't tell you how happy I was to make this chowder. I look forward to making it again. I will not omit the bacon, though ~ that's a promise
Here is my amended recipe below.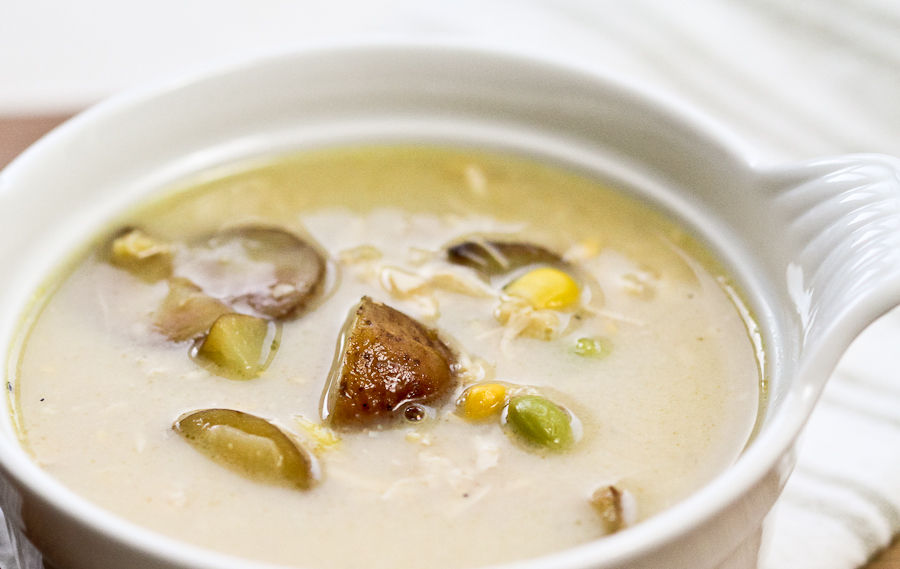 Chicken, Corn & Edamame Chowder with Roasted Potato
Ingredients
12 Baby Red Potatoes, halved
6 Pearl Onions
3 Cloves Garlic, halved
3 Tbsp Olive Oil
2 X 900ML Cartons Low Sodium Chicken Broth
2 Cups (cooked) shredded white meat from Rotisserie Chicken
1 Can Cream Style Sweet Corn
1/2 Cup Frozen Edamame, thawed
1 Tbsp dried Thyme
Salt & Pepper to taste
3/4 Cup Warm Milk (I used 3% but you can use 2% also)
2 Tbsp Butter
2 Tbsp Unbleached, all-purpose flour
Instructions
Preheat oven to 375F
In a medium bowl, toss potato, onion and garlic in olive oil, season with salt and pepper
Place on a parchment lined baking sheet and roast for 40 minutes. Set aside.
In a large dutch oven, bring chicken broth to a boil and add chicken, potatoes, corn and thyme.
Return to boiling state and remove excess fat from the surface. Repeat as necessary.
Add Edamame and reduce to a simmer
In a small skillet, melt butter over a medium heat
Add flour and combine with a whisk, about a minute
Gradually, add warm milk and whisk until a thickened consistency is achieved, and the flour is cooked, about 3-4 minutes
Add this mixture and stir gently to combine. You are aiming for a creamy texture.
Season with Salt and Pepper to taste.
Allow to simmer for about 10 minutes more
Serve and enjoy with crusty bread
http://lovelypantry.com/2012/01/chicken-corn-edamame-chowder-with-roasted-potato/
This chowder was just lovely!
Have a wonderful week!
read more