You have no idea how excited I get when I find a good recipe. I mean a really good recipe. One that I wouldn't mind having in weekly rotation. A recipe that is surprisingly pleasant to the palate. A recipe that is easy to make and works well when you really don't know what on earth you are going to make for dinner tonight. I've had a few nights like that recently.
My friends, as simple as this recipe is, I think its lovely. I even managed to get my son to eat it. He questioned the mushrooms for a moment (I didn't put a lot in his plate) but he finished his serving quite happily. I LIVE for moments like that!! I can't wait for my daughter to follow suit and actually enjoy food. My husband enjoyed it immensely and  I will say, it is hard to impress him if there is no meat on his plate!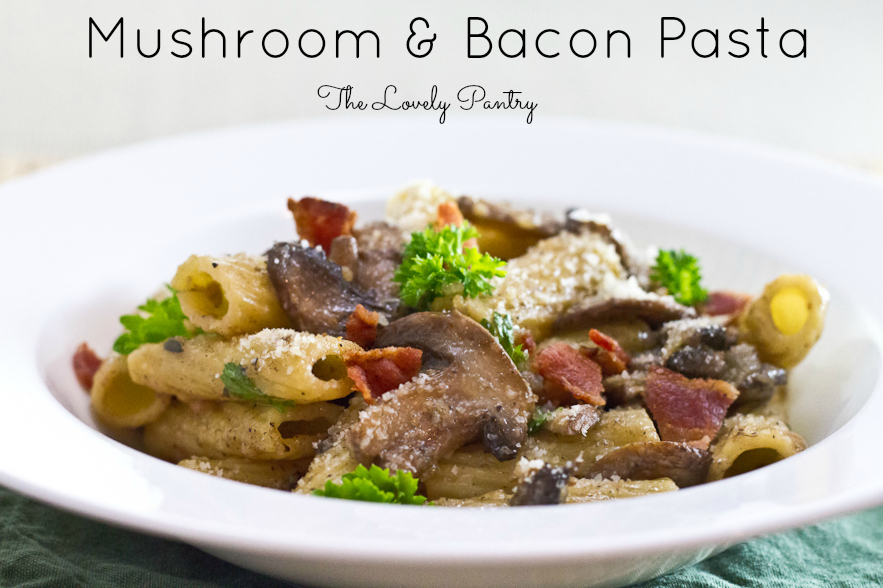 Ingredients
12oz Rigatoni
4 Slices Bacon
1 Tbsp Olive Oil
8oz Porcini Mushrooms
1 Onion, chopped
1 Tsp Dried Thyme
2 Cloves Garlic, minced
3/4 Cup Chicken Broth
3 Tbsp Mascarpone
3 Tbsp Fresh Parsley, chopped
6 Tbsp Parmesan Cheese
Salt and Pepper
Instructions
Prepare pasta according to package instructions
In a large hot skillet, add bacon and cook until crispy. Remove from skillet and place on a paper towel to absorb oil. Chop bacon into bits
In the same skillet, add olive oil
Add onion, thyme and garlic. Saute for about 3 minutes on medium high heat.
Add mushrooms and cook for about 5 minutes
Add broth and bring to a gentle boil. Add mascarpone and stir to combine
Drain pasta and add to skillet
Toss until combined and coated in the creamy sauce
Transfer to serving plates and sprinkle generously with parmesan
Notes
Adapted from Prevention.com
http://lovelypantry.com/2013/01/mushroom-bacon-pasta/
I guess I cheated and added bacon to this dish. Bacon is the magical ingredient that seems to give (almost) any dish the upper hand. I had a vision and I ran with it. I adapted a Mushroom Pasta recipe and decided to add bacon because I thought it would pair nicely with the mushrooms. I also substituted white wine for chicken broth.
I'll be honest, mushrooms are not my favourite food. But in a recipe like this? I will have it and I will enjoy it. I love a good pasta dish. This certainly satisfied any carb cravings I had. I also loved how the mascarpone just melted into the broth and gave it such a creamy sauce-like texture…without the cream! Brilliant!
I'm always looking for easy meals that can nourish and satisfy. I believe this is definitely one of them.
read more