I've had to look into so many things with regards to how we eat our food today. With all the various food sensitivities out there, it is so important to pay attention to foods that can cause illness to you or your loved ones. I have had to learn about  Gluten from a friend of mine who is sensitive to wheat products. I was not aware of Celiac Disease/Gluten Sensitivity before my friend shared her situation with me. I was more familiar with common food allergies/sensitivities like dairy, nuts and shellfish. Today's #SundaySupper theme is all about meals prepared for either health or dietary restrictions. So whether it be Gluten Free, Dairy Free, Sugar Free, Nut Free – we will have something to share with you today.
Our host this week is Bea from Not So Cheesy Kitchen. Bea's blog is dedicated to sharing meals and information about a rare metabolic disorder called Classic Galactosemia. This particular disorder prevents the body from processing sugar galactose properly. Bea has been able to allow her family to thrive by preparing special meals that are free from galactose, with guidance from her metabolic clinic. Bea is a true champion! Having a restricted diet has its many challenges, but Bea manages it well and shares her recipes and experiences with us on her blog. Thank you , Bea! And Thank you for hosting this theme that is so close to your heart.
Today I am sharing with you a Gluten Free Fritter using Chickpeas, Scallions, and tomatoes. I really like fritters. There is something about them that I find so comforting. Perhaps it's because my grandma used to make saltfish fritters for me, I'm not sure. They are so easy to make and such a practical snack. Everyone should be able to enjoy fritters of some kind. They can be served as a side dish or as a snack.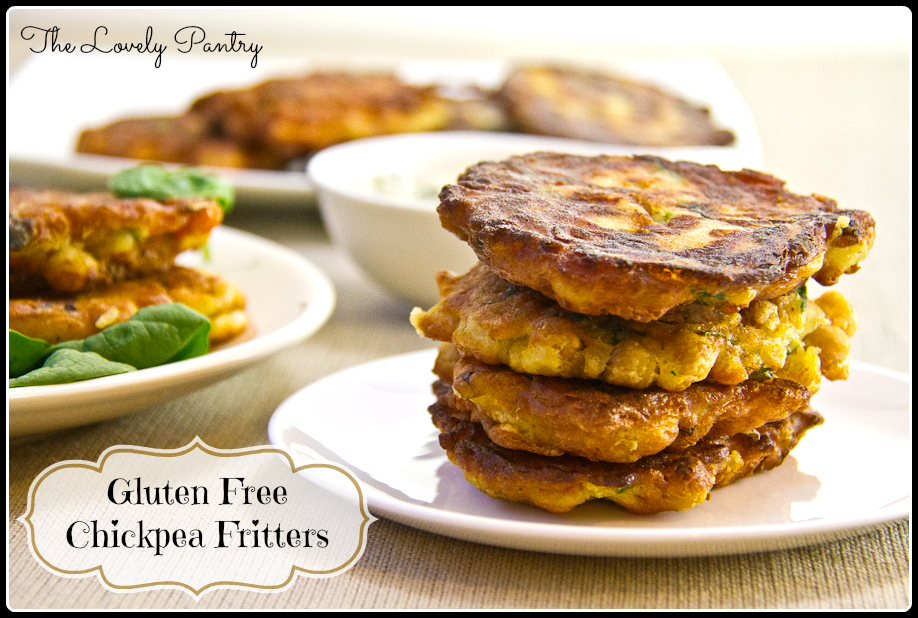 #GlutenFree Chickpea Fritters for #SundaySupper

Ingredients
1/2 Cup Gluten Free All Purpose Flour
1/2 Cup Quinoa Flour
1 1/2 Tsp Gluten Free Baking Powder
1/2 Tsp Salt
1 Egg, lightly beaten
3/4 Cup Unsweetened Almond Milk
3 Large Scallions
4 Campari Tomatoes
1 2/3 Cups Chickpeas (Garbanzo Beans), rinsed and drained
1/4 Cups Chopped Spinach
Sunflower Oil or Olive Oil for frying
Instructions
In a medium bowl, sift flours, baking powder and salt. Add milk and eggs, whisk to make a smooth batter.
Fold in the scallions, chickpeas, tomatoes and spinach. Add salt and pepper to taste.
In a large skillet, bring oil to medium high heat. Using a ladle, add about 3 tablespoons of the batter and cook in batches for about 3-5 minutes, then flipping until browned on the other side.
Serve warmed on a bed of spinach (optional) with any creamy Gluten Free dip of choice.
http://lovelypantry.com/2013/06/glutenfree-chickpea-fritters-for-sundaysupper/
I really enjoyed these chickpea fritters. It's always great to know you can create more than just hummus with a can of chickpeas. Scallions bring a lovely flavour to the fritters and pair nicely with the Tomatoes. Any tomato will do, as long as you remove the seeds first. You only need about a cup of diced tomatoes.
I used this opportunity to use the Gluten-Free Flour that I had in my pantry. Instead of using a full cup the GF flour for this recipe, I went half and half with Quinoa Flour – another Gluten Free flour.
I also shredded a handful of spinach to give the fritters some added nutrition as well as a beautiful hint of green!
I'm very happy to have made a #GlutenFree dish for today's #SundaySupper. Although I do not have a Gluten sensitivity, I will always try to make a variety of recipes that can assist other readers with special diets. Hope you enjoyed my recipe today. As always, check out the list of Recipes from the #SundaySupper group. Feel free to PIN and share your favourites on Facebook or Twitter!
Breakfast
Main Courses
Treats
Drinks
***
Join the #SundaySupper conversation on twitter on Sunday, April 14th to talk all about movies that have inspired us to head into the kitchen – and the food that comes from that inspiration (7pm EST)!
We'll tweet throughout the day and share recipes from all over the world.   Follow the#SundaySupper hashtag, and include it in your tweets to join in the chat.
Check out our #SundaySupper Pinterest board for more delicious recipes and food photos.
read more