After a week of sniffles and being under the weather, I am so glad that it is almost over and I can finally breathe again. I think I really needed some rest and being sick helped me to achieve that a little. It was great to get back into the kitchen and catch up on my cooking and baking. I'm looking forward to a relaxing March break with my family and an awesome Spring! This recipe is a great way to start the season and is perfect for St. Patrick's Day.
The recipe I'm sharing with you today has got to be one of the best breads I've had in a long time. I have baked Irish Soda Bread before, but these little darlings are way better. I couldn't believe how good they were! I almost kicked myself that I reduced the recipe by half. But then again, I would have had more than I should have. So I suppose it was a good thing. We all enjoyed it very much and both my children raved about how good they were.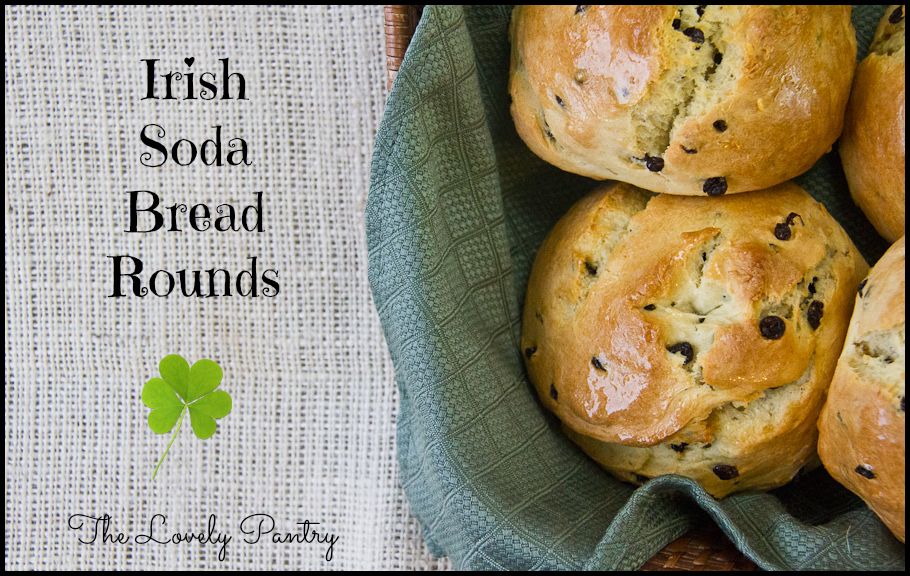 Ingredients
2 Cups All Purpose Flour, Unbleached
2 Tbsp Granulated Sugar
1 1/2 Tsp Baking Powder
1/2 Tsp Baking Soda
1/2 Tsp Salt
6 Tbsp Unsalted Butter, cold and cubed
1/2 Cup Currants
3/4 Cup Plain Organic Yogurt (or buttermilk)
1 Tbsp 2% Milk
1 Egg
Optional Glaze: 1 Tsp Sugar dissolved in 1 Tsp hot water.
Instructions
Preheat oven to 350F
Line a baking tray with parchment paper. Grease with no-stick cooking spray. Set aside.
In a large mixing bowl, sift in flour, sugar, baking powder, baking soda and salt.
Using a pastry cutter, cut in butter until the mixture looks like coarse crumbs.
Stir in currants
In a medium bowl, whisk egg until frothy
Add yogurt and milk. Whisk to combine
Using a kneading attachment for your mixer, add the yogurt mixture to the flour mixture.
Knead for about 5 minutes until fully combined and forms a dough that forms a ball
Remove dough from bowl and add to a well floured surface
Roll into a ball and cut into 4 even quarters
Roll each quarter into a ball and gently press down the centre
Score each ball with an X at the top
Bake for 28-30 minutes or until a toothpick inserted into the centre comes out clean
Remove from baking sheet and transfer to a wire rack. Cool for about 15 minutes.
Brush each round with glaze for a sweet crust
Notes
Adapted from Irish Favourites
http://lovelypantry.com/2013/03/irish-soda-bread-rounds/
I made some changes out of necessity. The original recipe called for buttermilk which I did not have. So I substituted with some plain organic yogurt that I had and added a tablespoon of milk to thin it out just a little. Thank goodness I had it ~ I don't care for plain yogurt very much so this recipe was right on time to use it up. I also used butter  instead of shortening. The dough came together quite well and it was easy to divide it into 4 portions using a sharp knife. I was sure to score the top of each round prior to baking.
I loved that this was a yeast-free bread. The kneading that was required was done by my mixer which truly earns its keep. This was very easy to make and was ready in under an hour.
These Irish Soda Bread Rounds are a perfect accompaniment to a cup of tea or coffee. We had ours while it was still warm – it was absolutely delightful with butter. I know my parents would love this. It reminds me a lot of a raisin bread. I chose to brush it with a light sugar/water glaze for a little added sweetness.
I hope you get to try this recipe. I was so happy with the results. My family enjoyed it and I'd bet yours would too.
~Lyn
read more