I love being in the kitchen. A while back, cooking used to be a leisurely hobby that I loved to do from the desire to nurture my family. On occasion, I will have the time to prepare wonderful meals that keep me in the kitchen and on my feet for a few hours. Being a stay at home Mother to my children allows me to support my family in a way that only I can, at the moment. As the kids get older and become more active and busy with life outside of the house, my cooking time gets cut down. Soon, I will have to start focusing on how I will prepare meals when I return to the working world. It's okay if I cook on a Friday night now, but at some point – I'm pretty sure that will become history
I will need someone to cook for ME.
#SundaySupper is a movement that encourages families to eat together at least once a week, typically on a Sunday but this could be any day of the week based on a families scheduling. As an extension of #SundaySupper, we are pleased to share with you #WeekdaySupper! We will be sharing quick and easy meals every day of the week. How awesome is that? Today I am sharing with you a #WeekdaySupper that is super easy and flavourful with wonderful fresh ingredients ~ Roast Chicken with Orange Gremolata. I found this lovely recipe in the Weight Watchers New Complete Cookbook. I totally forgot I had it.
What I loved about this recipe the most, is that it used fresh ingredients to season and infuse flavour into the chicken. I didn't change the ingredients, I just changed how I prepared it. The instructions required me to "grill" and turn each piece every 10 minutes until it was cooked through. Well, this is a mid-week supper. I could be doing something else while the chicken is in the oven. So, I roasted the chicken! Its my favourite way to prepare chicken these days anyhow.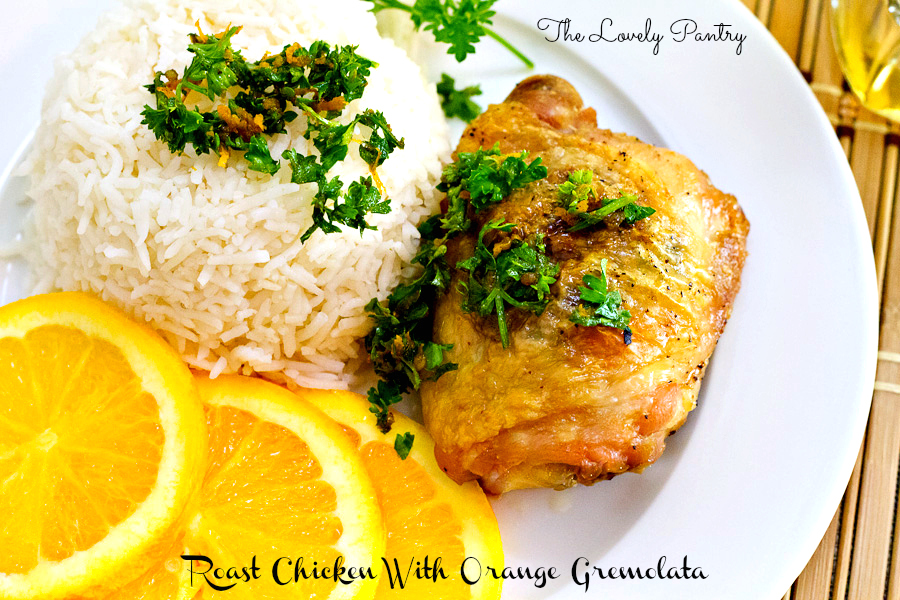 Roast Chicken With Orange Gremolata #WeekdaySupper
This recipe was slightly adapted from Weight Watchers, The New Complete Cookbook.
Ingredients
8 Chicken Thighs, skin on
1/2 Cup Chopped Fresh Parsley
Grated zest of an Orange
3 Garlic Cloves, minced
1 Tbsp Olive Oil + some to brush over chicken
1 Tsp Cumin
1 Tsp Salt
1 Tsp Black Pepper
Additional Salt & Pepper
Instructions
Preheat oven to 375C (Roast)
Prepare Gremolata: In a small bowl, mix parsley, garlic, oil, parsley, cumin, salt and pepper. Reserve 3 tbsp for garnish
Lightly brush chicken with olive oil. Season chicken thighs with salt and pepper
Place about a teaspoon of the Gremolata under the skin of each chicken thigh.
Roast chicken for about 30-40 minutes or until cooked through
Serve with rice and garnish with fresh gremolata
http://lovelypantry.com/2013/02/roast-chicken-with-orange-gremolata-weekdaysupper/
The first question that came to mind when I saw this dish was "What is Gremolata?". Gremolata is an Italian Condiment that typically consists of Parsley, Lemon Zest, Garlic and Oil. There are many variations, some substituting the parsley for herbs like rosemary, mint, sage or cilantro. Additions may include capers and chopped nuts. Gremolata can be served with pasta, most meats as well as fish. Lots of possibilities with this one. I'm sure I will be trying out some other recipes using Gremolata.
I was surprised how quickly this came together. So fresh and fragrant.
A teaspoon of Gremolata goes a long way. I spread it evenly under the chicken skin.
Dinner is served in no time. My husband found this meal to be different from what we normally have so I got a nod for choosing this recipe. I hope you enjoy it as much as we did.
Dinner during the week can be easy, flavourful and healthy too. 😉 Enjoy!
read more