My children enjoy pancakes immensely. When I have time, I like to make what we call "special pancakes". These are the pancakes that… don't come from the freezer. Mommy gets the ingredients together, and lovingly prepares a variety of pancakes to everyone's delight. Very special indeed! I experiment with pancake recipes to ensure that we are experiencing different tastes, and sometimes different textures too. I came across a recipe that made me so eager to try – Banana Bread Pancakes. Oh my goodness. So light and fluffy and banana filled. I did make a small change… I added Quinoa Flour. I went half and half with it. Good choice.
The itsy bitsy spider… climbed up the water spout…
Of all the bugs, they liked the spider. And so they sang while they waited for their pancakes.
I can't tell you how this little pancake griddle brought such delight to my children. I told them we were having "bug pancakes". Somehow, they found that really, REALLY funny. The sound of your children's laughter truly is a beautiful thing. Now every time I see this griddle, I'll remember their smiles, and how much we enjoyed these mini-pancakes.
This recipe is adapted from The Slow Roasted Italian.
Recipe Type:
Breakfast, Brunch
Author:
A tasty breakfast for the family to enjoy
Ingredients
1 Cup unbleached, all-purpose flour
1 Cup Quinoa Flour
2 1/2 tsp baking powder
1/2 tsp baking soda
4 tbsp sugar
1/2 tsp salt
1 1/2 cups buttermilk (1%)
2 large eggs
6 tbsp butter, melted
1 tsp vanilla
2 ripe bananas
Cooking spray
Instructions
In a small bowl, add flours, baking soda, baking powder, sugar and salt. Whisk to combine
In a medium bowl, add buttermilk, eggs, melted butter and vanilla
Gently combine dry ingredients into the wet
Crush the banana with a fork, and fold into the batter
In a hot griddle, spray with cooking spray
Add 1/4 cup of batter onto the griddle or pan
Cook until bubbles appear on the sides, about 1 minute or so untill golden brown
Flip and cook for another minute
Serve with maple syrup and/or fruits
Notes
I used a special pancake griddle that yielded mini-pancakes. I ended up with over 40 pancakes. If you are using a regular griddle, you will have less.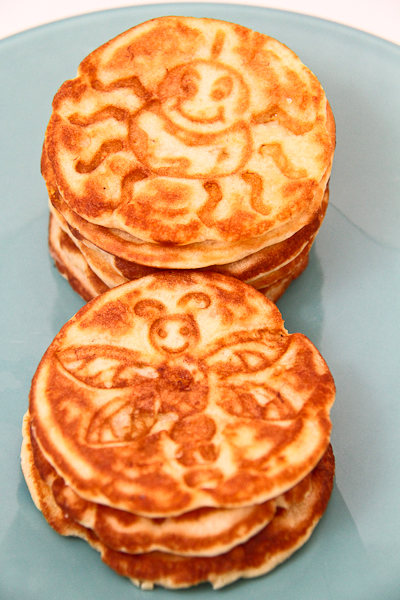 These pancakes were so delicious. I honestly did not need any syrup. The kids started to eat them without any syrup but half way through, they asked for it. I guess pancakes are supposed to have syrup on them. I look forward to making these again. Using the griddle did take more time, since the pancakes are smaller. Maybe next time I'll use a regular griddle. Bigger pancakes
Have a great weekend everyone! Make special pancakes! ~ Lyn
read more