I've been craving cheesecake for a while now. In fact, I can't even remember the last time I had some. Cheesecake has got to be one of my favourite desserts. I am a bit picky though. I have a weird thing about texture so my cheesecake has to be smooth and without chunky ingredients. Not to say that I won't enjoy a cheesecake with fruits etc, but it probably wouldn't be my first choice. A topping is fine – such as a classic cherry cheesecake. There's just something about a cheesecake that brings such pleasure to the palate. The creamy texture. The delicious delight that it is. Some days, I just really need cheesecake. Today's #SundaySupper theme is Cheese, Cake and Cheesecake. Our lovely host is Angie from Big Bear's Wife.
I wanted to make something that worked well with cream cheese. Perhaps another favourite ingredient. I didn't have to look far for a recipe. I reached for a recent addition to my cookbook collection – 500 Cakes by Susannah Blake. It was an obvious choice for me to choose the Chocolate Cheesecake. There were quite a few cheesecake recipes to choose from so I imagine upon the arrival of my next cheesecake craving, I know where I should look first.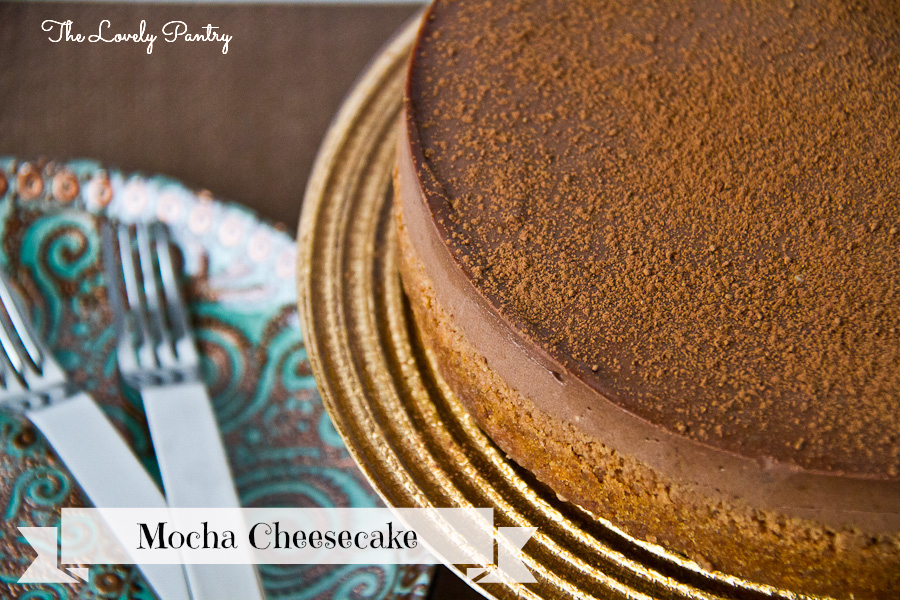 Chocolate Mocha Cheesecake for #SundaySupper
Ingredients
2 Cups Finely ground graham cracker crumbs
2 Tsp Unsweetened Cocoa Powder (and extra for dusting)
3/4 Cup Unsalted Butter, melted
7 Oz Semisweet Chocolate
16 Oz Low Fat Cream Cheese, softened (2 X 8oz packs)
3/4 Cup Low Fat Sour Cream
3/4 Cup Superfine Sugar
2 Tsp Cornstarch
3 Large Eggs
1 Tbsp Instant Coffee dissolved in 1 Tbsp Boiling Water
Instructions
Grease an 8-inch springform cake pan. Line with parchment paper
In a medium bowl, mix graham cracker crumbs, melted butter and cocoa powder
Place crumb mixture into the pan. Using your fingers, press the crumbs down and about half way up the sides, forming a firm crust.
Refrigerate for 30 minutes
Melt the chocolate in a heatproof bowl, over a pot of simmering water to melt. The bowl should not be touching the simmering water. The steam is what gently melts the chocolate. Stir occasionally, about 15 minutes. Remove from heat and set aside to cool.
Preheat your oven to 320F
Retrieve your cake pan and wrap with 2 layers of foil. Wrap the bottom of the pan with the intention of keeping water from seeping in during baking.
In a large mixing bowl, beat the cream cheese until smooth
Beat in the sour cream, sugar and cornstarch
Beat in eggs, one at a time until fully combined
Fold in the melted chocolate and the coffee liquid until fully incorporated
Pour the mixture into the prepared cake pan and level off using an offset spatula
Place the cake pan into an oven proof pan or dish, that has a deep rim - a little taller than your cake pan.
Pour enough boiling water into the dish until it gets about half way up the side of the cake pan
Bake for 50 minutes until set
Allow to cool completely
Refrigerate for 4 hours or overnight
To serve: carefully remove the springform pan and dust the cake with cocoa powder and shredded chocolate
Notes
Adapted from 500 Cakes by Susannah Blake
http://lovelypantry.com/2013/03/mocha-cheesecake-for-sundaysupper/
It seemed a little odd at first, to make a cake with no flour. But then I remembered that I've made a few flourless cakes – I just don't make them often enough.
The crust came together very well and did exactly what I needed it to do. I actually made the graham crumbs myself using my little Magic Bullet. That little gadget has really proven its worth. It gets more use than my blender. I cannot emphasize enough – wrap the springform pan well to avoid water seeping in.

The decision to add the mocha component happened as I was folding in the melted chocolate. Although the batter smelled wonderful, I wanted to give it a gentle kick to bring it up a notch. I'll try the plain version another time. Hence the mocha cheesecake was created!
I used the biggest pan I had that was deep enough to bake this cake. Thank goodness for my roasting pan!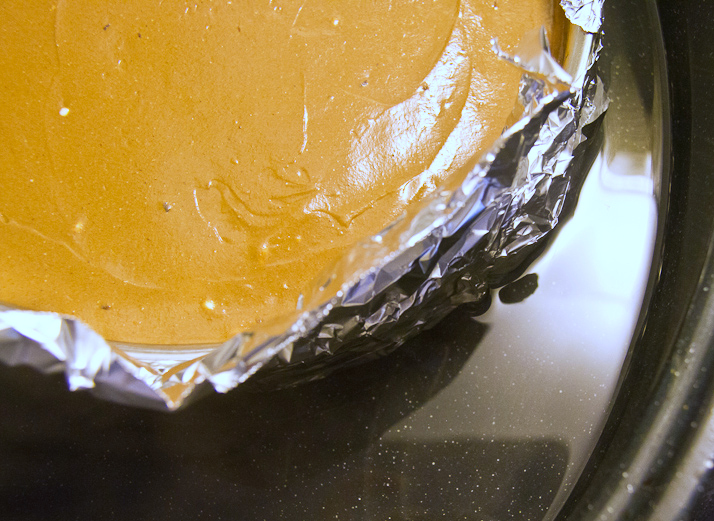 The cake came out great! Almost perfect, actually. As it cooled, the edges pulled away from the pan and this made it easier to transfer to a serving dish.
Slicing this cheesecake was a delight. The texture was so creamy and smooth. It was like we were meeting for this first time, this cheesecake and I. It took some time to prepare, and a little additional effort – but my oh my, it was worth it.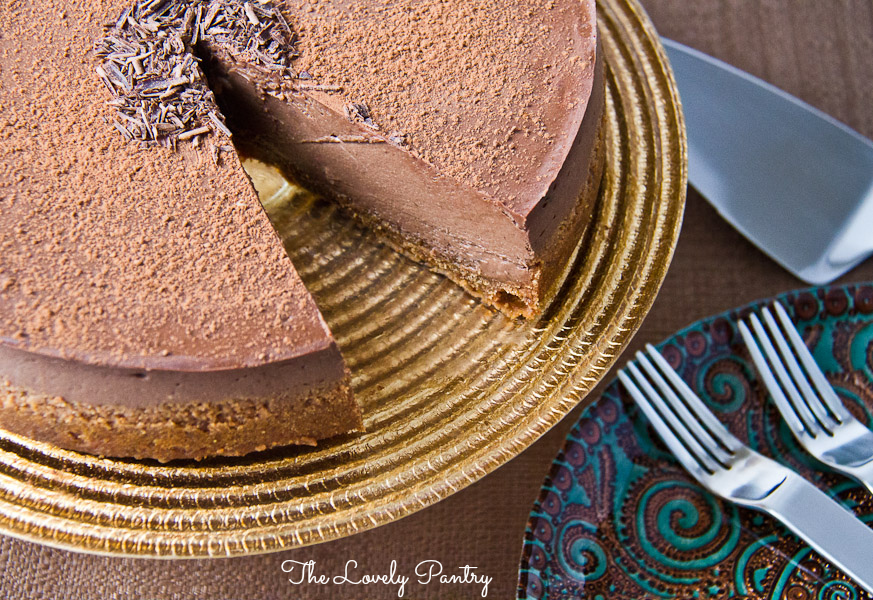 We enjoyed our Mocha Cheesecake. I enjoyed just looking at it even before I took the first bite! LOL!
The #SundaySupper Group has some super fantastic recipes for this week! Check out the  savory cheese dishes, wonderful cakes and amazing cheesecakes!
Cheese 
***
Join the #SundaySupper conversation on twitter each Sunday. We tweet throughout the day and share recipes from all over the world. This week we will be sharing our love of Cheese, Cakes AND Cheesecakes!  Our weekly chat starts at 7:00 pm EST!
Join us Around the Family Table this Sunday at 7PM Eastern Time and share your favorite Cheese, Cake and Cheesecake Recipes with us!
read more