Well, its been a while since I've made muffins for #MuffinMonday! I was so happy that I actually had something ready to share with you all today. I have been trying to add coconut to many things that I bake, when I can. These muffins gave me the perfect opportunity to experiment a little and also  to make something that my little ones will enjoy.
I really like baking with spelt flour and decided to incorporate it in this muffin recipe. I found this recipe on Canadian Living's website. The key ingredient for this weeks #MuffinMonday is Coconut. I used only Coconut Sugar as the sweetener, and used Coconut Oil instead of vegetable oil. Coconut Sugar and Banana were the only ingredients needed to sweeten these little muffins.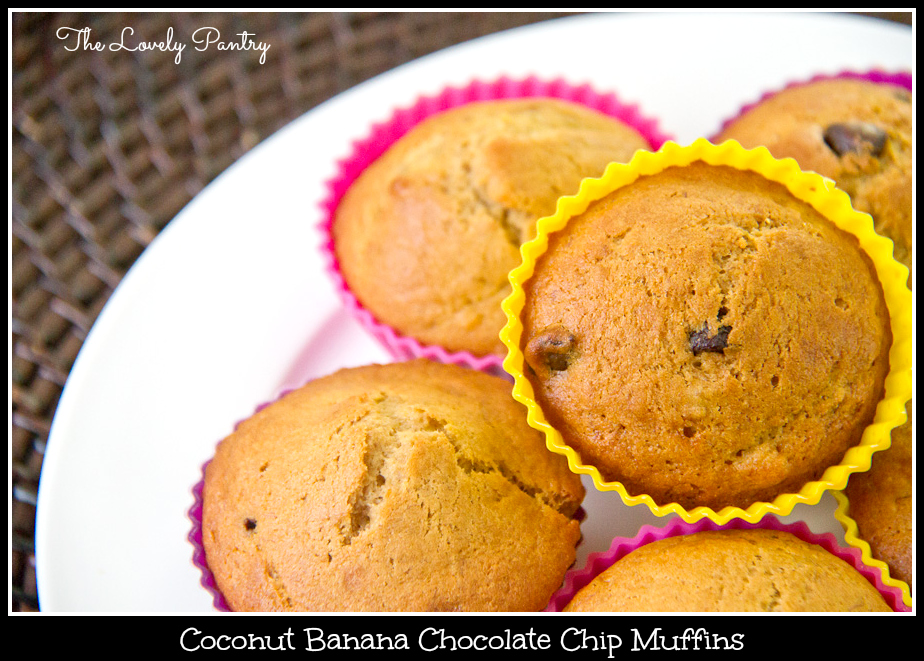 Coconut Banana Chocolate Chip Muffins #MuffinMonday
Ingredients
3/4 Cups All Purpose Flour, Unbleached
1/2 Cup Spelt Flour
1/2 Cup Coconut Sugar
3/4 Tsp Baking Powder
1/2 Tsp Baking Soda
1/4 Tsp Salt
1 Egg
1/2 Cup Buttermilk
1/2 Cup Mashed Banana (1 med banana)
2 Tbsp + 2 Tsp Coconut Oil
1 Tsp Vanilla
1/2 Cup Dark Chocolate Chips
Instructions
Preheat oven to 375F
In a medium bowl, add flours, coconut sugar, baking powder, baking soda and salt. Whisk to combine.
In a medium bowl, beat eggs, add buttermilk, bananas, oil and vanilla.
Gradually mix the dry ingredients into the wet until combined.
Fold in the chocolate chips
Spoon batter evenly into greased muffin liners
Bake for 25 minutes and allow to cool for about 10 minutes.
http://lovelypantry.com/2013/03/coconut-banana-chocolate-chip-muffins-muffinmonday/
I opted to leave out shredded coconut because I know my kids are picky about "bits" in their muffins. But I'm sure it would have worked well with this recipe. A quarter cup of shredded coconut would have been a nice portion for this recipe.
I reduced the recipe by half and used these cute colourful silicone mini-muffin cups. I find that the muffins come out so much better when I use them as opposed to paper liners. I avoid using the muffin tin directly whenever possible. I also mixed the entire recipe by hand. The batter was so light and easy to manipulate.

Yet another delightful aroma coming from my kitchen! The kids really got excited and kept asking if the muffins were ready.
I baked these little muffins for my children and they loved it. They were just the right size and were much better for them in my opinion, since I added spelt flour and used coconut sugar.
Enjoy the first week in March!!!
~Lyn
***
Muffin Monday is an initiative by Baker Street ~ A culinary journey of sharing a wickedly delicious muffin recipe every week. Drop in a quick line to join her on her journey to make the world smile and beat glum Monday mornings week after week.
read more