Keeping the food budget under control is an important aspect of running a home. I learned this from experience. While trying to cut food costs, creativity is a must. I try not to go too wild at the grocery store but, as a food blogger I see so many possibilities whenever I go shopping! But no matter what, I try to make my meals healthy and attractive – especially the budget friendly meals!
Today's theme for #SundaySupper is budget friendly meals. Such awesome inspiration! Our hosts today are Lane from Supper For A Steal and Pam from Blueberries And Blessings. Please be sure to check the recipe's from the links below.
Over the past few weeks, I have been making a few changes to my diet. Kindly pardon my lack of posts recently. All will fall into place soon. I will show you some of what I have been making very soon. Today's recipe is a refreshing spring dish. I deviated from my original idea which was lemon chicken (didn't turn our the way I hoped)…and ended up with this recipe. Panko crusted chicken breasts with Sauteed Asparagus with Lemon Slices and Capers.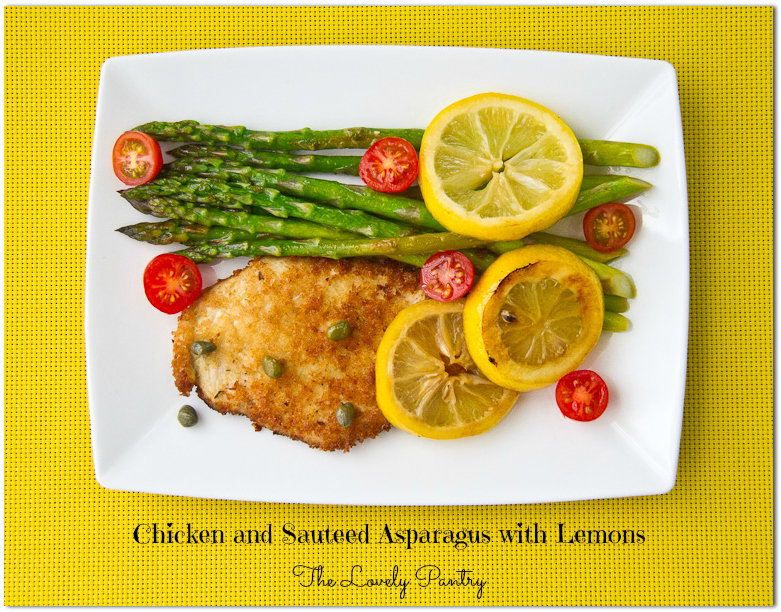 Chicken with Sauteed Asparagus and Lemons #SundaySupper
Ingredients
5 Chicken Breast Cutlets (or 2 chicken breasts, thinly sliced)
1 Tbsp Dijon Mustard
1/2 Cup Panko Breadcrumbs
3 Tbsp Grapeseed Oil
1 bunch Asparagus, washed and trimmed
1 Lemon
2 Cloves garlic, Sliced
1 Tbsp Capers, rinsed
Salt & Pepper
Instructions
Brush both sides of each piece of chicken with mustard, then sprinkle with salt and pepper
Coat each piece with the breadcrumbs
In a large skillet, heat grapeseed oil over medium high heat
Brown garlic in the oil. Discard garlic.
In batches, brown each piece of chicken on both sides until nicely browned and cooked through. Transfer to a plate and set aside
Slice the lemon in half. Cut one half into slices.
In a large skillet, add a tablespoon of oil and bring to a medium heat.
Gently sautee the asparagus for about 6 minutes. Add the capers and the lemon slices. Add the juice of the other half of the lemon.
Sautee for about 3 minutes more
Sprinkle with salt and pepper (to taste)
Plate and serve
http://lovelypantry.com/2013/04/chicken-with-sauteed-asparagus-and-lemons-sundaysupper/
This recipe is easy, healthy and affordable. Could anyone resist spring asparagus? Bright lemons? Not me. It also fits well into the changes I'm making to my diet. I will be reducing my processed carbohydrate intake for the next few months. So this means more fresh ingredients in my kitchen, as it should be.
I really do like to cook my chicken in oil fragrant with garlic. It gives such wonderful flavour.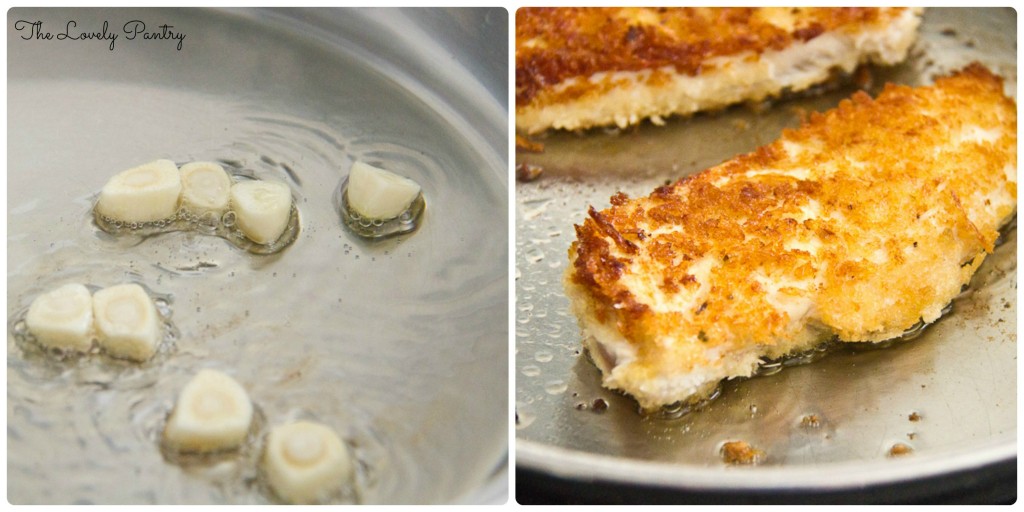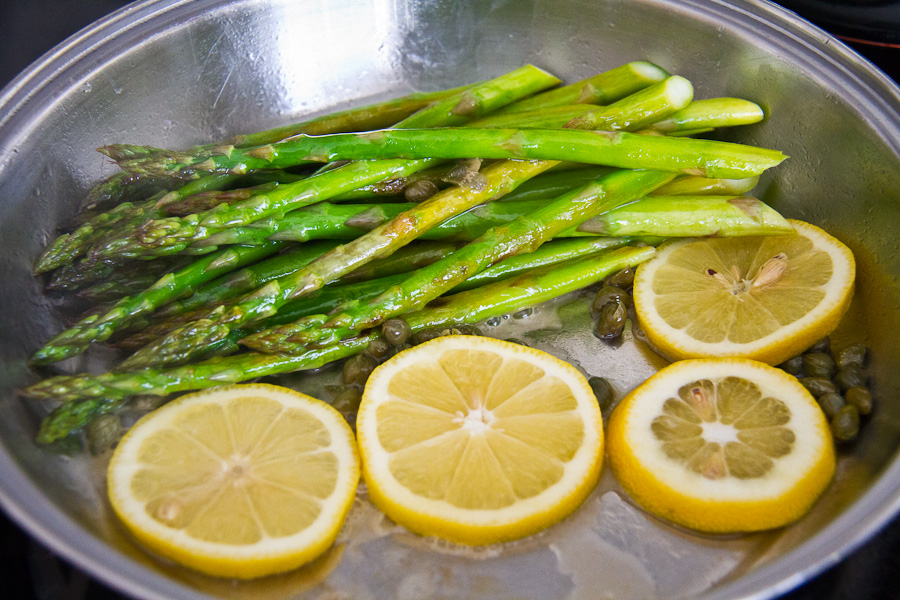 Such an easy and affordable spring recipe. Do you have great, tasty, healthy budget recipes? Please tell me about them in the comments below.
Here are the amazing budget friendly recipes from the #SundaySupper team.
Starters, Soups, and Salads
Main
Sides
Drinks and Desserts
 ***
Join the #SundaySupper conversation on twitter each Sunday. We tweet throughout the day and share recipes from all over the world. Our weekly chat starts at 7:00 pm ET and you do not want to miss out on the fun. Follow the #SundaySupper hashtag and remember to include it in your tweets to join in the chat. Check out our #SundaySupper Pinterest board for more fabulous recipes and food photos.
Would you like to join the Sunday Supper Movement? It's easy. You can sign up by clicking here → Sunday Supper Movement.
Announcing the Food & Wine Conference sponsored by Sunday Supper!It's being held July 19th – 21st in beautiful, sunny Orlando, FL. It's a must for food bloggers. Check it out by clicking here → Food & Wine Conference
read more