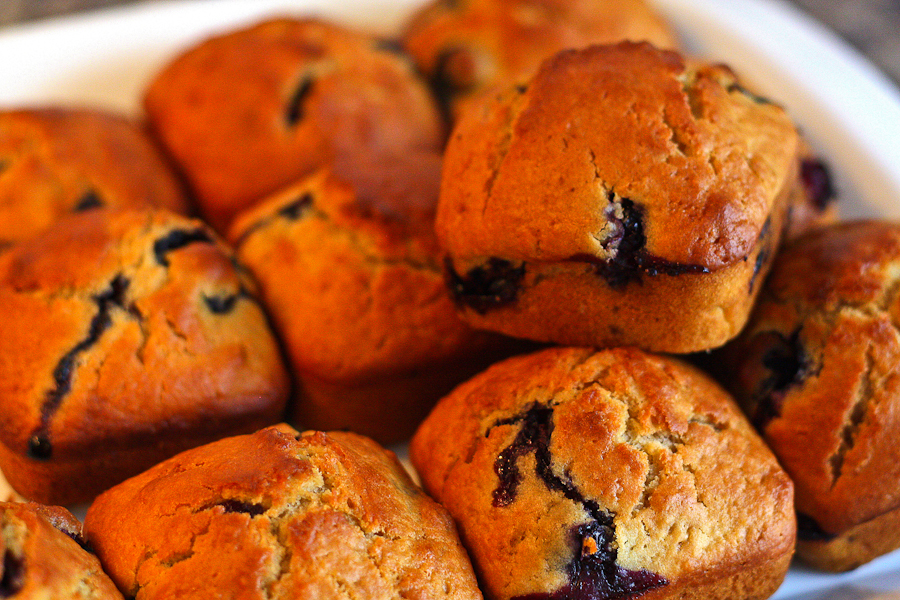 My children are aware that I can cook and bake so it does not surprise me anymore when they request (or demand) that I make something for them. Not buy. Make. Blueberry muffins were requested of me this time. I grabbed my Cupcakes & Muffin Recipe Book and got to work. I love that the recipes are simple and that I have so many to choose from – 200, in fact. This is actually a condensed version of the book. The larger book had 1000.  They tasted great and as usual, disappeared overnight.
Ingredients:
6 Tbsp butter, melted and cooled
2 Cups All Purpose, Unbleached Flour
1 Tbsp Baking Powder
A Pinch of salt
1/2 Cup Light Brown Sugar
1 Cup Blueberries (I used fresh, but you could use frozen too)
2 Eggs
1 Cup Milk
1 Tsp Vanilla Extract
Finely grated rind of 1 lemon
Directions:
I recently purchased a muffin tray with square compartments instead of the traditional circles so I was happy to use it. I like different.
Preheat oven to 400F. Grease a 12 hole muffin pan. Sift together flour,  baking powder, and salt into a large bowl. Stir in the sugar and blueberries.
Place eggs in a large bowl and beat lightly, then beat in the milk, oil, vanilla and lemon rind. Make a well in the center of the dry ingredients and pour in the beaten ingredients. Stir until just combined – do not overmix! This will cause the muffins to have a very firm texture. Spoon the batter into the muffin pan, divided evenly.
Bake in the preheated oven for 20 minutes, or until well risen, golden brown, and firm to the touch. Let cool in the pan for 5 minutes, then serve warm or transfer to a wire rack to cool completely.
Enjoy!
read more