As you already know, there was a horrific tragedy that took place in Newtown, Connecticut at Sandy Hook Elementary School on December 14, 2012. As a Mother, a parent, my heart, along with the hearts of countless others, was broken. My heart still aches. My thoughts and prayers go out to the Newtown Community as well as to the families of all those who were affected.
These are trying times, and now more than ever, we must treasure and value the time spent with our children. This Christmas will be devastating to some, who will have to spend it without their beloved child. That in itself is a terrifying thought. I cannot begin to imagine the grief being endured. Please do all you can to support the community and the affected individuals. 
I am a member of a wonderful Facebook community who wanted to organize a way for bloggers and people all over the world to show their tribute and unite in support of Newtown, Connecticut and Sandy Hook Elementary School.
It's times like these when we feel helpless; we want to DO something but we don't know what.
On Friday, December 21, 2012, we are going to honor the victims, families, and community of Newtown by doing a post in their honor. Cookies and Crafts for Sandy Hook will be one way we can show support in the aftermath of this unimaginable event.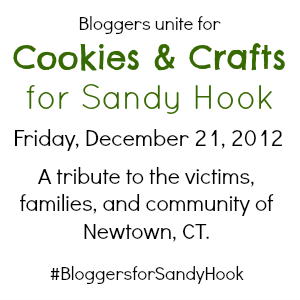 On Friday, December 21, write a post sharing a cookie or a craft and a tribute to Sandy Hook Elementary School. There is no specific requirement…just do or make something to show your support. Maybe something you would make for, or with, your children.
Please spread the word about this united effort wherever you can. You can use the hashtag #BloggersforSandyHook.
Don't have a blog? That's okay. You can still share something for Sandy Hook. Take a picture and post it on your Facebook wall, your Twitter feed. Share on Instagram or your Google+ or wherever you can in order to unite us in our tribute.
Something people always think about in times like this is how they can help monetarily. After some searching Dorothy of  Crazy for Crust and Ashton from Something Swanky found the Newtown Youth and Family Services website. According to their website, Newtown Youth and Family Services, Inc. is a "licensed, non-profit, mental health clinic and youth services bureau dedicated to helping children and families achieve their highest potential. NYFS provides programs, services, activities, counseling, support groups and education throughout the Greater Newtown area." All donations made to them are going to go back to those affected by the school shooting. You can go to their website here to donate.
Many bloggers have Etsy shops or businesses and have expressed a desire to donate some profits from sales on Friday, December 21 to this organization or others to help the victims, their families, and the community. If you own a shop and would like to contribute some of your profits on Friday, December 21st, please add your link to the list on Dorothy's Blog.
read more