Victoria Sponge Cake With Cream Cheese for #SundaySupper
Welcome to another #SundaySupper! This Week's theme is all about "Retro Recipes."  You know, those food memories that immediately take us back in time.  There are some recipes that are tried and true. Some of them we wouldn't think of making any changes, because it would become something totally different. And then there are some with room for flexibility and adventure. I love a little bit of both in my kitchen. These are the recipes that remind us of our childhood, our grandparents, our parents, or foods that were the norm during a certain era.
Most of the things that I make are either fairly new to me or remind me of home. Until I was about 11 years old, I lived in London, England. I don't have too many memories of life there but I do recall some of the funny foods that I would eat at school or visiting my british friends or neighbours. When in London, eat what the Londoners eat! Toad In The Hole, Bangers & Mash, Crumpets, and how can I ever forget Fish & Chips. Whenever I had extra spending money, I would stop and buy myself some "chips" wrapped in newspaper, sprinkled with salt and vinegar. I remember how awesome it was to eat it as I walked home from school. These are what I think of when I think of retro. I don't know of any Brit that didn't have fish fingers with ketchup as part of their weekly meals. I know exactly where my tea drinking habit began! My Mom and I always enjoy a cup of tea before bed, even now. That's the one thing I'm never without. It's always a good time for a cuppa.
In Jamaica there are some recipes that have certainly stood the test of time! Grater Cake, Coconut Drops, Jerk Chicken, Oxtail, Curried Goat, Cornmeal Pudding, Black Cake (also known as Christmas Pudding), Sorrel, Blue Drawers, Stew Peas…the list goes on. But today, I'm going to share with you a recipe that I came across last year around the time of The Diamond Jubilee of Queen Elizabeth II. It's called Victoria Sponge Cake and it is a British classic.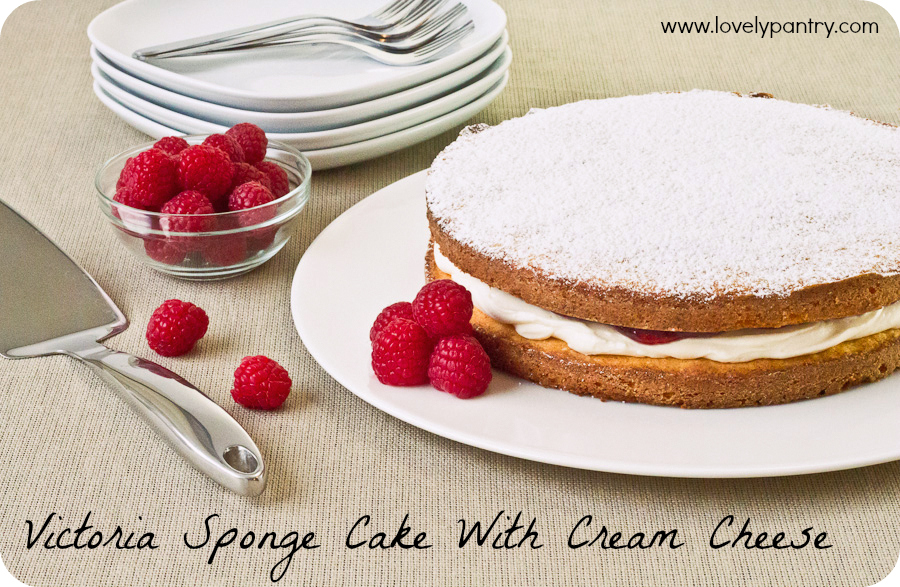 Victoria Sponge Cake With Cream Cheese for #SundaySupper
Ingredients
1 Stick + 4 Tbsp Unsalted Butter
3/4 Cup Granulated Sugar
3 Eggs at room temperature
1 Tsp Vanilla Extract
1 1/4 Cup All-Purpose Flour, Unbleached
1 Tsp Baking Powder
1/2 Tsp Salt
1/3 Cup Seedless Raspberry Jam
Cream Cheese Filling:
1 X 8oz Package Light Cream Cheese, softened
1 Cup Confectioners Sugar
3 Tsp Cream or Milk
1 Tsp Vanilla Extract
Instructions
Preheat oven to 350F
Grease 2 cake pans (I used 9 inch but this recipe needed 8 inch pans)
In a medium bowl, add flour, salt and baking powder
In a large bowl, cream the sugar and butter until fluffy
Add eggs one at a time, mixing well in between each addition
Add vanilla and mix until fully incorporated
Gently fold in the flour until combined and smooth
Divide batter evenly between pans and level off the batter with an offset spatula
Bake for about 25 minutes until golden and springy to the touch. Do a toothpick test to ensure cake is cooked through
Allow to cool in pans for about 10 minutes then transfer to wire racks to cool completely
For the filling, mix the cream cheese, confectioners sugar, cream and vanilla until silky and light
Transfer one of the cakes into your serving platter. Spread the cream cheese evenly to cover most of the surface using an offset spatula or the back of a spoon
Spread the raspberry jam on top of the cream cheese as close to the edge as you would like
Place the second cake on top to complete the "sandwich". Sprinkle with sifted confectioners sugar
Serve and enjoy!
http://lovelypantry.com/2013/01/victoria-sponge-cake-with-cream-cheese-frosting-for-sundaysupper/
The first time I made this cake, it was a bit lop-sided so I was happy to try it again. This time around, it came out much better but I think I will do it again to see how else I can get my cake to be lighter and fluffier. There are so many variations of this recipe available. The recipe that I used came from a book called Illustrated Step By Step Baking.I opted to use something different from the suggested butter cream filling. I wanted to changed things up just a little bit so I used a simple cream cheese filling instead. I need to get smaller cake pans. My smallest is 9 inches and I needed 8 inch pans. I think I need to go shopping, don't you agree?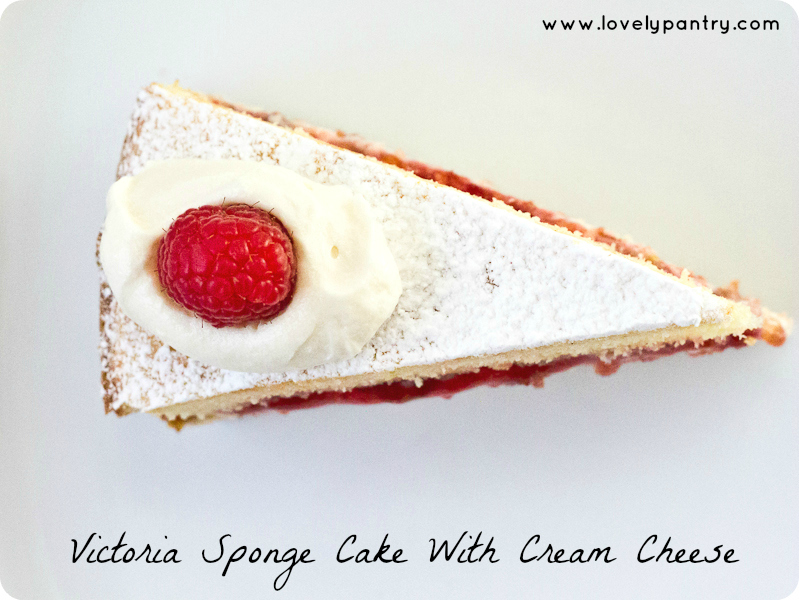 Join us Around the Family Table this Sunday at 7pm Eastern Time and share your favorite Retro Food Memory with us!
The Sunday Supper family have so many wonderful retro and retro inspired dishes to share with you. Be sure to check out the recipes listed below.
Sunday Supper Retro Appetizers:
Sunday Supper Retro Salads:
Sunday Supper Retro Breads and Sandwiches:
SundaySupper Main Dishes:
Sunday Supper Retro Sides and Veggies:
Sunday Supper Retro Desserts and Cocktails:
Join the #SundaySupper conversation on twitter each Sunday. We tweet throughout the day and share recipes from all over the world. Our weekly chat starts at 7:00 pm ET and you do not want to miss out on the fun.
Follow the#SundaySupper hashtag and remember to include it in your tweets to join in the chat.
Check out our #SundaySupper Pinterest board for more fabulous recipes and food photos.
Would you like to join the Sunday Supper Movement? It's easy. You can sign up by clicking here → Sunday Supper Movement.