Jamaican Blue Drawers for #SundaySupper
Welcome to the first #SundaySupper of 2013! I'm so grateful when I am able to participate and I'm more than happy to jump right on in at the start of the new year. Today's theme is Whats on your recipe bucket list? My recipe bucket list is quite long. There were a few things I wanted to start off with but then I remembered that I promised myself that I'd make Blue Drawers. It's a very simple sweet pudding that has been around for decades in Jamaica. I only knew about it as an adult and was surprised to know that some of my friends have only heard about it, but have never had it. I guess its something that our grandmothers would make. I'm no grandma, but I love exploring my heritage and learning about the food from the land of my birth. So let's go!
Please check out all the exciting recipes that the #SundaySupper family have to share. I'm looking forward to seeing the dishes that we are all making for the very first time! I'll consider this the post to kick off my bucket list recipes.
Blue Drawers (you might also see it as Blue Draws) has a few aliases … Tie-A-Leaf, Duckoono/Dokunnu and Boyo. It is originally a West African dish (Dokunu) that was traditionally made with plantains, but modern versions are made with cornmeal, sweet potato, green banana, cassava, or a combination of your preference. Blue Drawers is essentially a boiled pudding that is considered a treat because it is sweet as opposed to savory. Along with the selection of ingredients mentioned previously, grated coconut is always added. Consider this a mandatory ingredient. What really got me interested in making Blue Drawers, was that each portion is boiled in a banana leaf secured with thin strip of banana bark. Something about it just seems so rustic, and pure. I love that in Jamaica, it is pretty much still prepared that way. I always wondered about how this pudding ended up with the name "Blue Drawers". Well, according to the National Library of Jamaica, it was given the nickname Blue Drawers because the banana leaves apparently have a blue hue once they are cooked. Well. Okay then! Who knew?
The fact that I did not have banana leaves did not stop me from preparing this pudding. I used the alternative…foil! It doesn't look as rustic and earthy but it's what I have access to. And it worked just great. I also added my very own special touch to this Jamaican treat ~ a simple coconut glaze with a hint of citrus to break up that coconut essence just a little bit.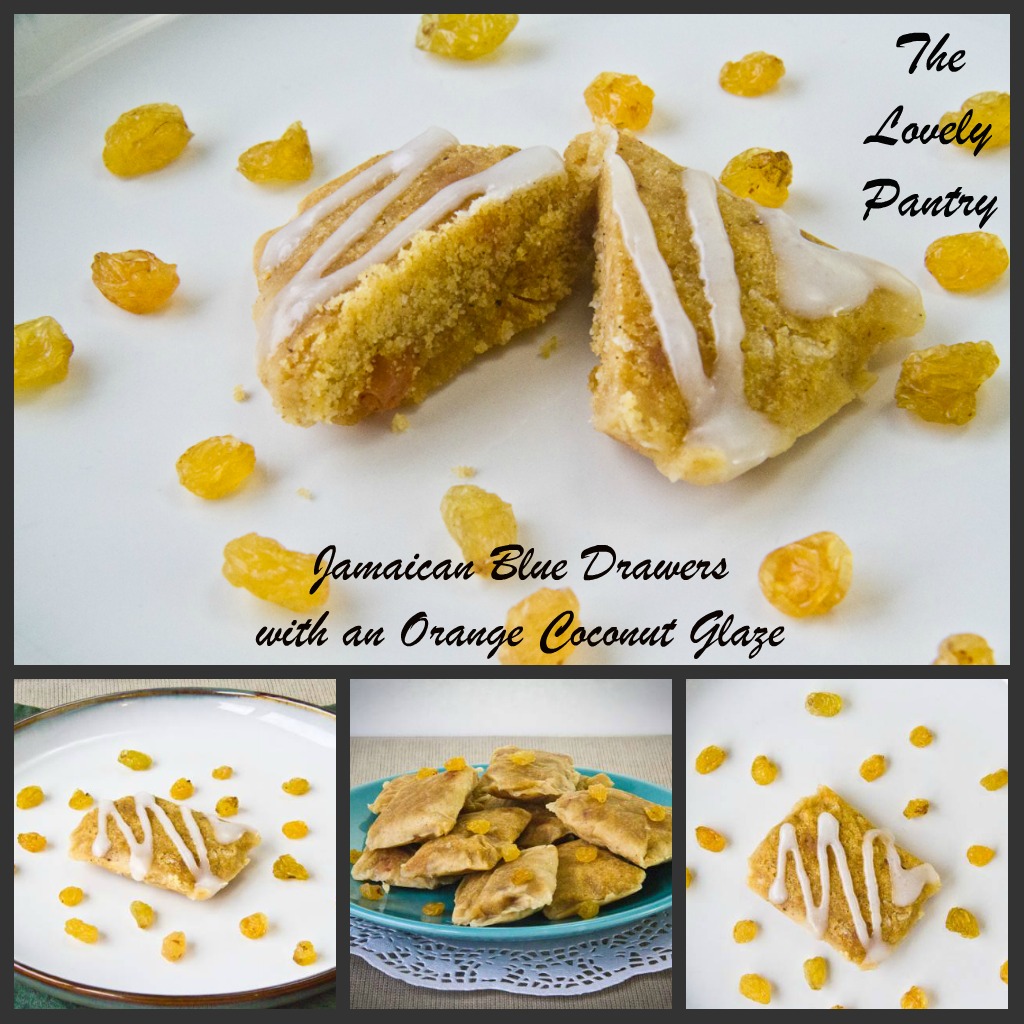 Jamaican Blue Drawers
Recipe Type: Dessert
Cuisine: Jamaican
Author: Lyn via "Cook Up Jamaican Style, 4th Edition"
Prep time: 30 mins
Cook time: 60 mins
Total time: 1 hour 30 mins
Serves: 6
A traditional Jamaican dessert or snack made from cornmeal, coconut milk and raisins
Ingredients
1 Cup Cornmeal
1/2 Cup Brown Sugar
1/4 Tsp Salt
1/2 Tsp Mixed Spice
1/3 Cup Golden Raisins
1/4 Cup Shredded Coconut
1 Cup Coconut Milk
1/2 Tsp Vanilla
***
Coconut Orange Glaze
1/4 Cup Coconut Milk
1 Cup Confectioners Sugar
1/8 Tsp Pure Orange Extract
Instructions
In a medium bowl, combine cornmeal, mixed spice, shredded coconut and raisins
In a small bowl, add coconut milk, sugar and vanilla. Mix to combine
Add the coconut milk mixture to the cornmeal mixture and mix with a spoon until combined
Prepare 12 sheets of foil, 12″ X 8″
Using a standard ice-cream scoop, place a scoop of batter into the center of the foil sheets, and fold the foil around each scoop to form parcels
Place the parcels in pot enough boiling water to cover them completely
Cook on medium high heat for about an hour
Remove each parcel with tongs and place on a bowl.
Carefully unwrap each parcel over a few sheets of paper towels as some water may drip out
For the glaze: In a small bowl, add coconut milk, and confectioners sugar. Whisk until well combined and smooth. Add orange extract and combine.
Add glaze on top of each pudding once cooled
3.1.09
I took this photograph in August for 2012 while I was visiting Jamaica during the Jamaica 50 celebrations (Jamaica celebrated its 50th year of independence). I only knew of Blue Drawers by name. I had not had it at this point. Then a friend of mine gave me some that his mother had made. I knew that even if it was just once, I would make Blue Drawers. So keep in mind that this is how they would have been presented if I had banana leaves.
In terms of the main ingredient, I did make a very slight change. I used golden raisins instead of regular raisins.
I combined the dry ingredients with the wet ingredients to make a moist batter.
Combining the batter was easy, and so was the parcel preparation. There was no particular way in which to fold the parcels, so I just made them the best I could. Utilizing the scoop ensured that each pudding would be identical in size. I got exactly 12 scoops using this recipe. I made my parcels fairly small. I cut the ingredients in half in order to keep the servings small.
Cooled Blue Drawers
I think adding the glaze gave it a modern touch. I enjoyed it with the glaze. The orange essence is very subtle.
I hope you enjoyed this item from my bucket list. Whats next on your recipe bucket list?
Check out the recipes
This Week's Sunday Supper Recipes:
Sunday Supper Specialty Breads:
Sunday Supper Main Dishes:
Sunday Supper Desserts and Snacks:
Join the #SundaySupper conversation on twitter each Sunday. 
We tweet throughout the day and share recipes from all over the world. Our weekly chat starts at 7:00 pm ET and you do not want to miss out on the fun.
Follow the#SundaySupper hashtag and remember to include it in your tweets to join in the chat.
Don't forget to also check out our #SundaySupper Pinterest board for more fabulous recipes and food photos.