Creamy Orzo With Pancetta
I had an opportunity to try a pasta called orzo. It's a small pasta shaped like a grain of rice quite suitable for salads, soups, risotto or creamy pasta dishes. It's a wonderful addition to my Pantry. This is a very quick and easy week night meal that I hope you'll enjoy as much as I did. I made quite a few changes to the original recipe but I was more than happy with the result. Sometimes, all you need is an idea to get your creative juices flowing. The texture of this recipe reminds me of a risotto since the pasta has to absorb the liquid that it is cooked in.
I enjoyed making this dish and I can actually think of a few variations that I would love to try – like meatless, or with chicken instead of the pancetta. I love that there are so many options. The first time I made this dish… I forgot the cheese. I'll just call that the "reduced calorie" version
It looked pretty though, and tasted great too.
Creamy Orzo With Pancetta
Ingredients
1/4 Cup Diced Pancetta
2 Tbsp Butter
1 Small Onion, finely chopped
1 Clove garlic, finely chopped
1 1/2 Cups Orzo
2 1/2 Cups Chicken Broth (low-fat, low-sodium)
1/2 Cup Green peas (thawed from frozen)
1/2 Cup Grated Parmesan Cheese
Salt and Pepper
Instructions
In a dutch oven (or deep pot), melt butter
Add garlic and stir for about a minute
Add onion, then sauté until translucent
Add Orzo and allow to "toast" in order to bring out the flavour
Add salt and pepper
Add broth and cook for about 20 minutes, stirring occasionally
When orzo is fluffed up, add pancetta, stir and allow to warm through
Add green peas. Stir to combine
Add parmesan and stir
Allow to warm through, about 3-5 minutes
Serve and enjoy
http://lovelypantry.com/2012/01/creamy-orzo-with-pancetta/
Here's how I made it. So easy. I bet you'll be making this meal this week
I remembered to add the cheese this time
Yes, dinner was good. My boys loved it.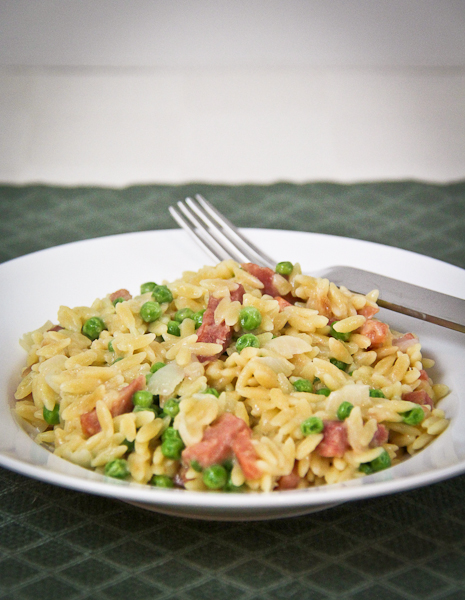 This recipe was adapted from Everyday Food
Happy Monday!!! ~Lyn