Banana Nutmeg Smoothie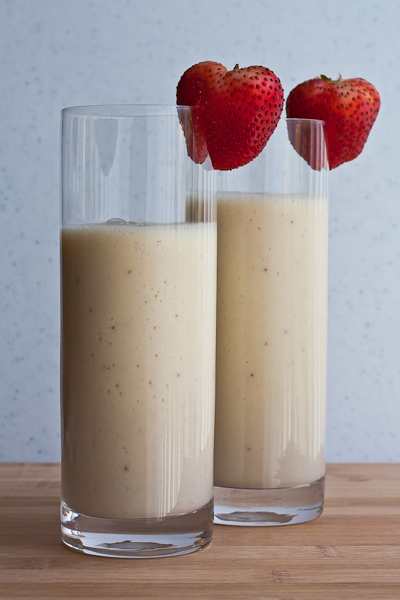 After chit-chatting with my friends on Facebook, I realized that Smoothies are quite popular with healthy-minded individuals! I guess I'm a bit late on the smoothie band wagon, but I'm slowly getting into it. I mean, who can resist a fruity drink that's natural and GREAT for you? It's always a bonus when the kids LOVE it too. I'm down for Smoothies! Are you?
What are your best smoothies?
How often do you have them?
What do you use to make them? (Blender, Immersion blender, Single Serving Blender etc)
Smoothies are so versatile. Its a meal on the go, or a quick nutritious snack. When it comes to ingredients, my Facebook friends have listed both fruits and veggies. Bananas seem to be the must have ingredient, followed by mango and pineapple. Peanut Butter adds a smooth shot of protein and frozen spinach adds some extra goodness to the mix. I look forward to experimenting more with Smoothies.
Here's a recipe for a smoothie that my children and I enjoyed ~ Banana Nutmeg Smoothie
Ingredients:
2 Bananas (If you use frozen Bananas, you don't need ice)
1/2 Cup Milk (Substitute with Soy or Almond if desired)
1 Cup Low Fat Vanilla Yogurt
1/4 Tsp Nutmeg
1 Cup Ice
Directions:
Add ingredients to a blender and mix until the ice is crushed and the liquid becomes frothy. Pour into individual glasses (or cups for the little ones).
If using as an adult meal replacement, adding a flavoured protein powder is great too.
Happy blending!
Lyn