Almost Lasagna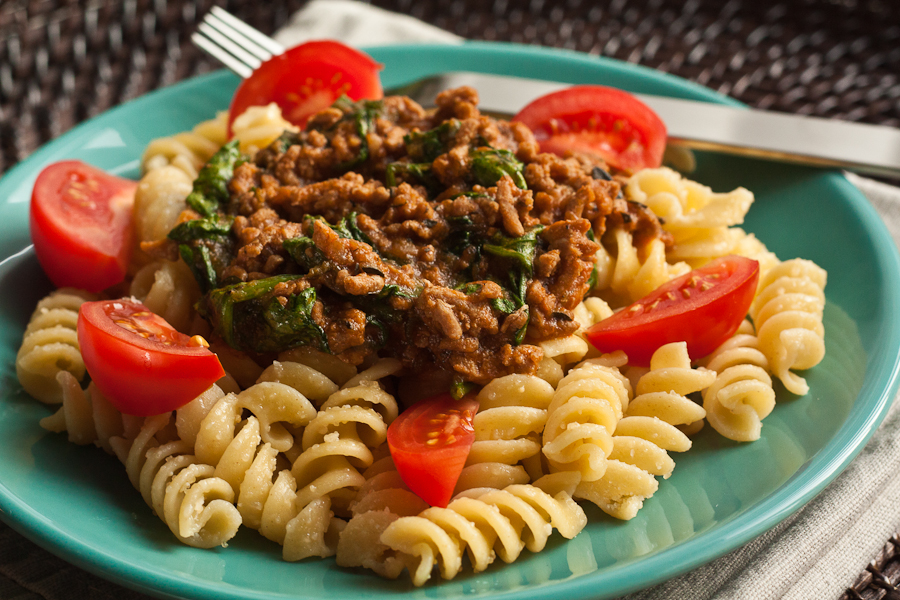 There are some days when I am willing to make Lasagna, and there are days when I wonder why go through all the layering. Don't get me wrong, we love lasagna. It's a beautiful thing. This is a recipe that happened one day when I started to make lasagna but never quite made it. You just never know how things will turn out  in my kitchen. This was a great meal!
Author:
Ingredients
1 1/2 lbs Lean ground turkey or ground beef
1 Onion, finely chopped
1 Garlic clove, finely chopped
1 tbsp Italian Seasoning
Salt and Pepper to taste
2 Cups Baby Spinach
1 Cup Healthy Choice Garlic Lovers Pasta Sauce
2 tbsp Olive Oil
1/4 Cup Chicken Broth
Instructions
In a medium dutch oven, over medium high heat, brown onion and garlic in olive oil (10 minutes).
Add meat and cook until browned (10 minutes).
Add Italian Seasoning, salt and pepper.
Add Tomato Sauce and stir to combine.
Allow to simmer for about 15 minutes. If the mixture is too thick, add a little chicken broth.
Simmer to desired consistency. Add additional salt and pepper if needed.
When you are satisfied with the consistency, remove from heat.
Add spinach, stir.
Serve over a bed of pasta tossed in olive oil and parmesan cheese.
Add colourful veggies. Serve and enjoy!