Roasted Chicken & Potatoes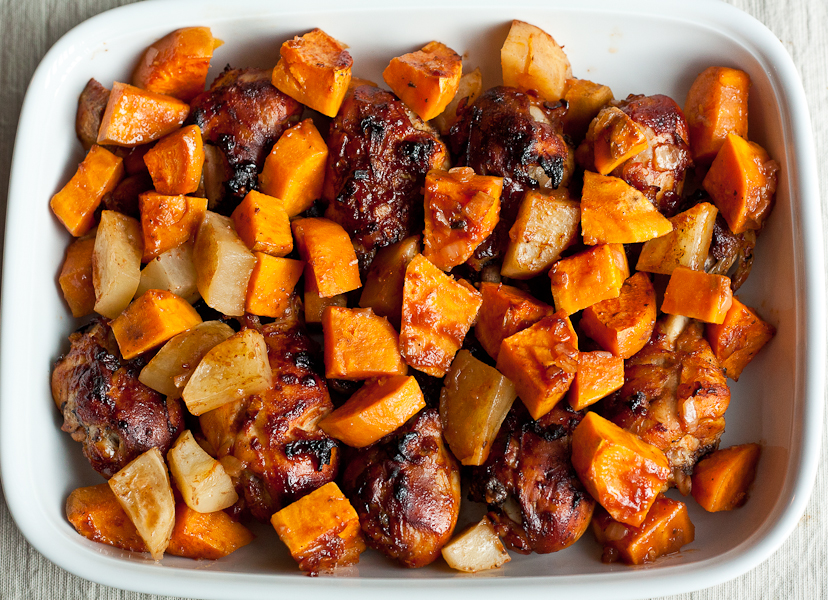 Have you ever had company over and didn't have a clue what you were making for dinner? This happened to me recently. I did not plan for company that night, but thankfully had some drumsticks ready to be cooked. I reached in my cupboard and found a cookbook called Easy Chicken
It had the recipe I needed based on the ingredients I had available. There is though, that nervousness when you try something for the first time and share with friends. Essentially you're winging it. If you like taking chances and trying recipes for the first time with visitors, well here's a safe bet. Of course, this is my own version of the recipe.
| | | |
| --- | --- | --- |
| Roasted Chicken & Potatoes | | |
Author:
A tasty meal that the whole family will enjoy
Ingredients
8 Pieces of chicken (Drumsticks, Thighs, or both)
1 Tsp Salt, 1 Tsp Black Pepper
1 Onion, finely minced
8 Tblsp Organic Ketchup
2 Tblsp Maple Syrup
1 Tblsp Worcestershire Sauce
1 Tblsp Mustard
2 Cloves Garlic, minced
3 Tblsp Extra Virgin Olive Oil
2 Sweet Potatoes (2 medium or 1 large)
2 White Potatoes peeled and cut into chunks
Instructions
Preheat oven to 400F
Score each piece of chicken 2 – 3 times
Mix together all the ingredients, except the sweet potatoes, in a large bowl.
Add the chicken and toss to coat.
Cover with plastic wrap and let marinate in the fridge for about 20 minutes.
In a large oven proof dish, empty the chicken and sweet potatoes and arrange them so that nothing is overlapping.
Roast for 40-50 minutes until well browned and chicken cooked through. The chicken should be tender and the juices run clear when the thickest part of the meat is pierced.
Serve with rice and a salad of your choice.
I had no idea how this meal was going to turn out, but based on the ingredients alone and my track record for selecting tasty meals –  I knew it would be good. And it was. I'd prepare this again in a heartbeat.
Enjoy!