Chicken Saltimbocca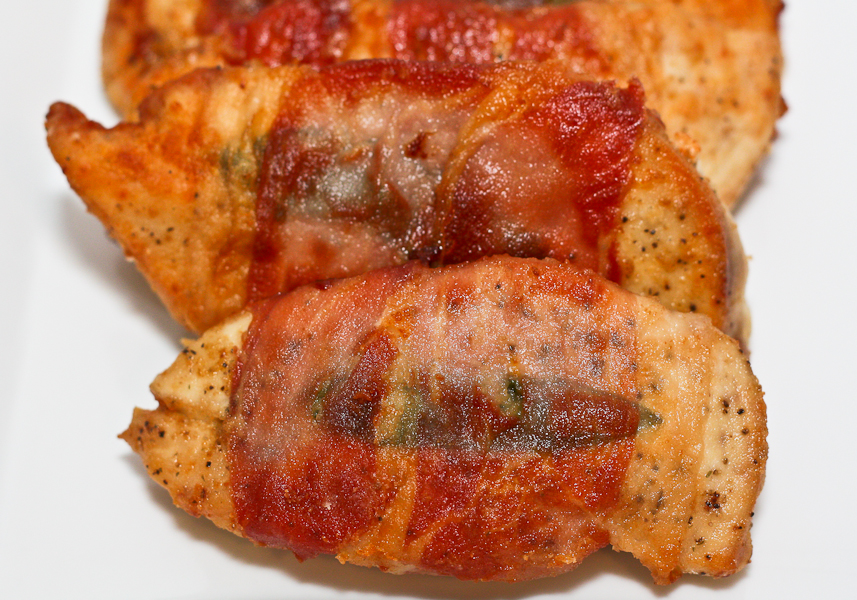 I find a lot of recipes from television, as well as my library of cook books. This recipe, I found on a program called Everyday Food. I love their recipes! Expect to see my adaptations throughout my website.
This recipe is called Chicken Saltimbocca and was a first for me (as with a lot of what I cook). I like to try something new every week. We enjoyed this meal and I've added it to my personal collection of recipes. I'm sure you will enjoy it too.
Ingredients:
4 Chicken Breasts, skin and bone removed
4 Strips prosciutto
4 Fresh Sage leaves (whole) + 4 finely minced Sage leaves
1/2 Tsp Salt
1/4 Tsp Pepper
1/4 Cup All purpose flour, unbleached
1/3 Cup Low Sodium Chicken Broth
3/4 Cup Dry White Wine
1 Tbsp Butter
2 Cloves Garlic, halved
Olive Oil for cooking
Directions:
Place a fresh sage leaf in the centre of each chicken breast. Wrap prosciutto on top of each chicken breast, folding under. The sage leaf will be under the prosciutto, safe and protected.
In a shallow dish, add flour, salt and pepper. Stir with a fork to mix evenly. Coat each chicken breast on both sides.
In a hot skillet, add about 2-3 tablespoons of olive oil. Add garlic and saute until browned. Remove garlic. Place each piece of chicken in the skillet – presentation side down first (the side that is flat). Be sure to shake off any excess flour before placing into the skillet.
When all pieces are browned on both sides, remove and set aside.
This is my favourite part – Deglazing.  Add the wine and the chicken broth to the skillet, over a medium high heat. Reduce until concentrated. Turn the heat off and add the butter. Stir to combine. Add chopped sage and stir for about a minute. Pour sauce over the chicken.
Serve and enjoy!
Adapted from Everyday Food