Irish Soda Bread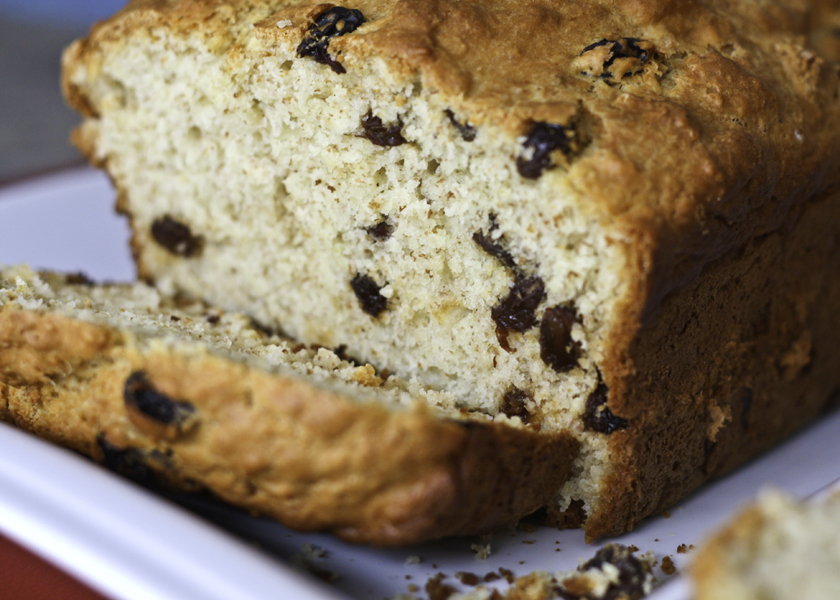 This recipe was made out of sheer curiosity. I found this recipe in Healthy Eating magazine. It went down well in no time at all! Enjoy.
Ingredients:
3/4 Cup Raisins
1 Cup boiling water
2 Cups All Purpose Flour
1 Cup Whole Wheat Flour
1/3 Cup sugar
3 Tsp Baking Powder
1 Tsp Baking Soda
1 Tsp Salt
1 Egg
2 Cups Buttermilk
1/4 Cup Butter, melted
Directions:
Preheat oven to 350F
Place Raisins in a small bowl. Cover with boiling water; let stand for 5 minutes. Drain and pat dry.
In a large bowl, combine the flours, sugar, baking powder, baking soda and salt. In a small bowl, whisk the egg, buttermilk and butter. Stir into dry ingredients just until moistened. Fold in raisins.
Transfer to a 9 X 5 inch loaf pan coated with cooking spray. Bake at 350F for 50-60 minutes or until a toothpick inserted near the center comes out clean. Cool for 10 minutes before removing from pan to a wire rack.