Herbed Lemon Chicken Noodle Soup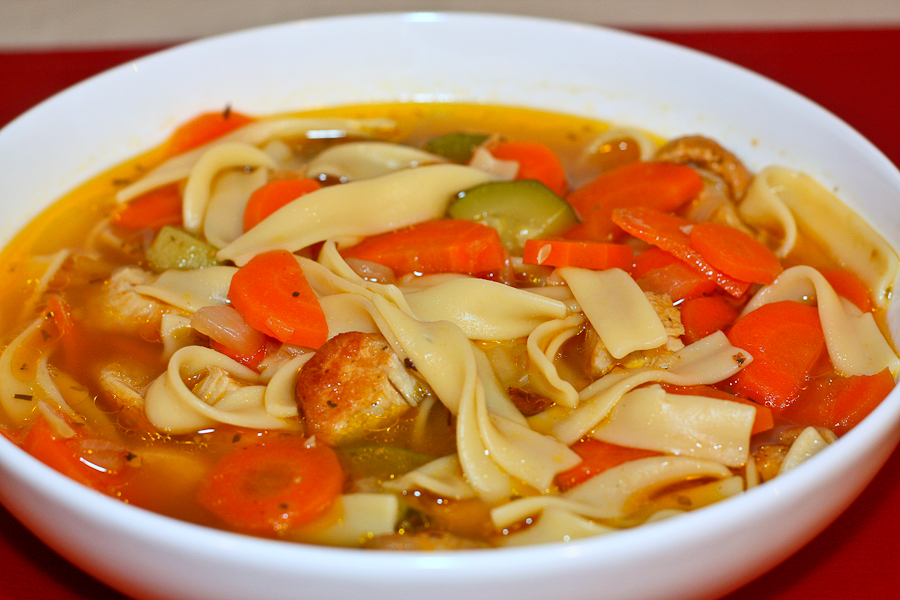 I got this recipe from the back of the Chicken Broth carton. Recipes are just everywhere!
Ingredients:
3/4 Cup uncooked dry broad Egg Noodles
3 (approx 3/4lb) Boneless, skinless chicken breast
1 Box (900ml) Low Sodium Chicken Broth
1 1/2 Cup sliced celery
1 1/2 Cup half-moon sliced carrots
2 1/2 Tbsp lemon juice
2 Cloves garlic, finely chopped
1 Tbsp fresh oregano leaves, chopped
1 1/2 Tbsp fresh parsley leaves, chopped
Salt & Pepper to season the chicken before cooking.
Instructions:
Cook noodles according to package directions – al dente. Drain and set aside.
Heat large heavy-bottomed soup pot, lightly coated with cooking spray, at medium heat. Add chicken and cook until browned about 5 minutes per side. Remove chicken. Add broth, celery and carrots. Heat to a boil. Cut or tear chicken into chunks.
Stir in the chicken, noodles, lemon juice, garlic and oregano leaves. Reduce heat to low.
Simmer, stirring occasionally for 5 minutes. Stir in parsley (and pepper, if desired) and serve.