Braised Chicken in Butternut Squash Sauce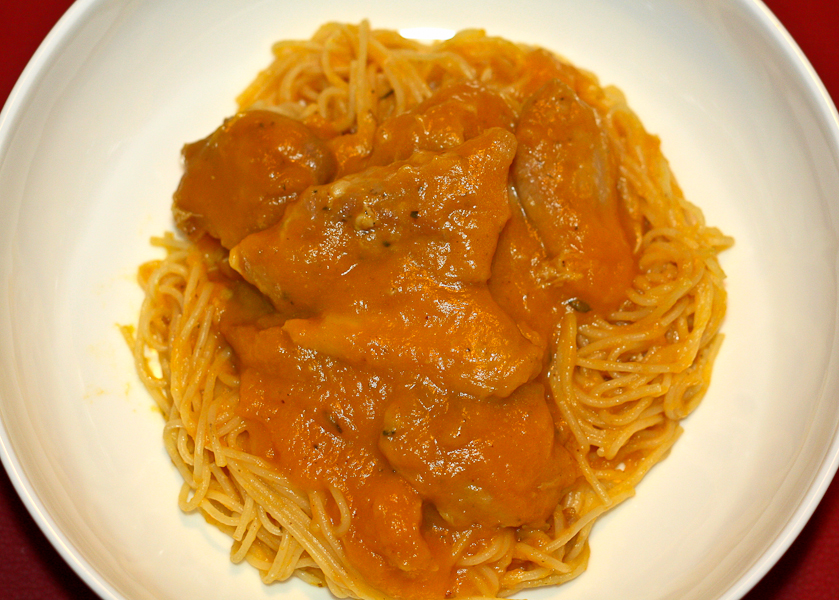 The original recipe used Bell Pepper but I used Butternut Squash because that's what I had in my pantry at the time. Fair trade, I'd say. This is a favourite recipe of mine.
Ingredients:
2 Tbsp Extra Virgin Olive Oil
1-2 Tbsp Cornstarch
2 1/2 Lbs boneless, skinless chicken thighs
1 Cup roughly diced onion
3/4 Cup diced celery
1 Butternut Squash, diced
2 Cloves garlic
2 Cups chicken stock
1 Tbsp chopped fresh thyme
2 Bay leaves
Coarse salt and ground black pepper – to taste
2 Tbsp cold, unsalted butter
Directions:
Heat olive oil in a large heavy-bottomed pot over medium high heat.
Toss chicken thighs in cornstarch, just to coat, shaking off excess. Add chicken thighs to pot (in batches) and sear on both sides until brown (3 minutes per side). Set aside.
Reduce heat to medium-low. Add onion and celery, sauteing until translucent (approximately 5 minutes). Add squash and garlic and saute 2 minutes.
Add stock, thyme, bay leaves and bring to a simmer.
Return chicken thighs to the pot. Cover and simmer gently for 45 minutes to an hour, until chicken is cooked through and the squash is tender.
Remove chicken thighs and bay leaves and puree sauce until smooth with an immersion blender. Strain. Return sauce and chicken to the pot and bring to just below a simmer. Season and stir in butter to enrich the sauce, if desired.
Serve over rice or whole wheat spaghetti.
Enjoy!