Apple Raisin Mini Muffins
This is a family and crowd favourite adapted from Paula Deen. The original recipe called for walnuts but I try not to bake with nuts. Also, I incorporated whole wheat flour to increase the fiber content. I should probably warn you… These mini-muffins are highly addictive. These Apple Raisin Mini Muffins are a perfect gift too. Guaranteed to please!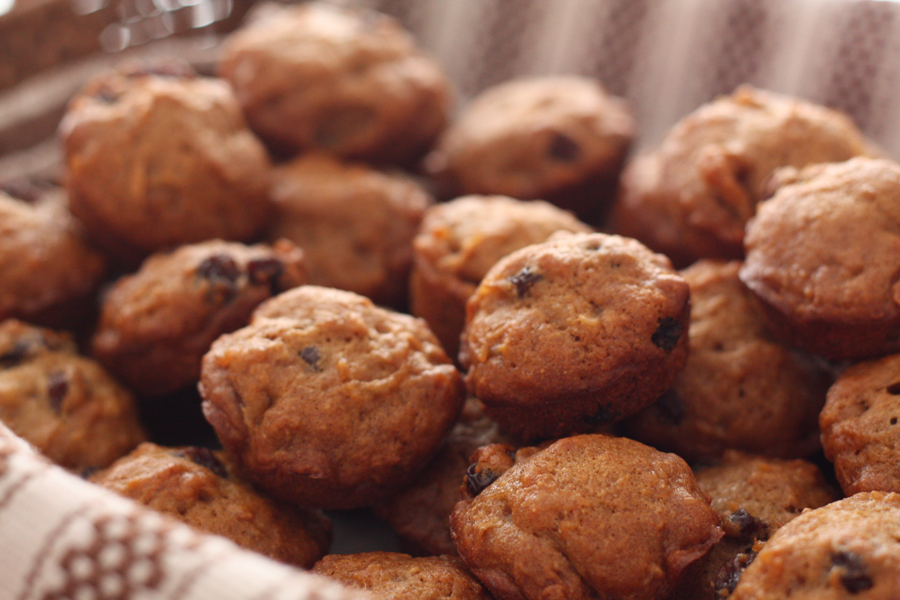 Apple Raisin Mini Muffins
Ingredients
1 Cup Water
2 Cups Sugar
2 Cups Grated Apples (Approximately 3 Royal Gala Apples)
2 Cups Raisins
1 Cup (2 sticks) Butter
2 Tsp Ground Cinnamon
1 Tsp Freshly Grated Nutmeg
1/2 Tsp Ground Cloves
2 Tsp Baking Soda
2 1/2 Cups All Purpose "Unbleached" Flour
1 Cup Whole Wheat Pastry Flour
Instructions
Preheat oven to 350F degrees
Combine the water, sugar, apples, butter, cinnamon and cloves in a saucepan. Bring to a boil. Remove from heat and allow to cool completely.
In a large bowl, sift in the flour and baking soda.
Add the cooled mixture to the bowl, a cup at a time, until combined. I find it best to use a spatula for this to get everything from the sides and the bottom incorporated.
Fill greased miniature muffin tins with batter to the top.
Bake for 15 minutes.
http://lovelypantry.com/2011/04/apple-raisin-mini-muffins/
Enjoy these wonderful muffins!